Ubisoft's extreme winter sports romp Steep is currently free on PC
You'll be piste if you miss it.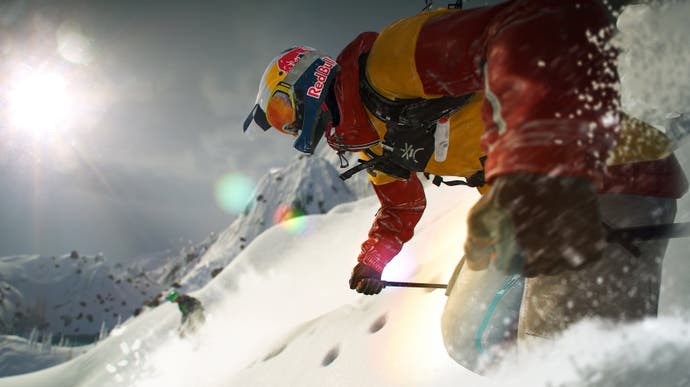 Fans of sports, the cold, and mostly going downward are in for a treat (as long as they own a PC); Ubisoft's enjoyable, open-world extreme winter sports extravaganza Steep is currently free to download and keep via Uplay.
Steep originally released on Xbox One, PlayStation 4, and PC in 2016, to what Wikipedia tells me was a "mixed to average" critical response. Clearly nobody asked Eurogamer's Christian Donlan or myself, because we both really quite enjoyed it.
Admittedly, my own positive feelings toward Steep have mostly been directed at the walls and ceiling until now, but Donlan awarded its sometimes uneven, but frequently exhilarating, blend of extreme sports and vast, freeing expanses, a Eurogamer Recommended back in the day.
"Early on, I was told by Steep's intrusive narrator to pretty much ignore the unlockable challenges and carve the mountain up in search of hidden lines and lonely spaces," he wrote, "This was good advice. It's quietly thrilling to leap from the mountainside and the board beneath my feet, up to the overhead view of the entire mountain range, in which my rider is suddenly a dot, lost amongst the rumpled whiteness, and then instantly warp to a distant drop zone. As an extreme sports game, Steep is fine. As a place, it's frequently amazing."
Steep's sporting disciplines include the likes of skiing, snowboarding, paragliding, base jumping, sledding, and wingsuit flying across a variety of different mountain ranges - and if that sounds like something you might enjoy, PC players can permanently add Steep to their Uplay library for nowt from now until 11pm on 21st May. All you need do is sign up for a Uplay account, if you don't have one already, and then just claim your freebie.
It may be getting on a bit now, but Steep is still a fun, and surprisingly relaxing, endeavour, particularly with a few friends in tow as you tumble unstoppably downward, taking in the sights - and Ubisoft has continued to support the game since launch with new seasonal tournaments, challenges, events, and more. Also, it features a talking mountain.