Turn-based strategy game Blood Bowl 2 announced for PC
Cyanide playing quarterback in Warhammer spin-off.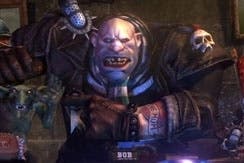 More Warhammer-related video game news: this time Blood Bowl 2 has been announced.
It's been in development at French studio Cyanide for a year, publisher Focus Home Interactive said. Cyanide was the developer of 2009's Blood Bowl, the video game based on Games Workshop's violent American Football-themed Warhammer spin-off board game.
Like Blood Bowl 1, Blood Bowl 2 is a turn-based strategy game. It's in the works for PC. A release window is yet to be announced.
The video, below, shows off commentators Jim Johnson the Vampire and Bob Bifford the Ogre ex-star player in CGI form. Both will be in Blood Bowl 2.
"In Blood Bowl 2, Jim and Bob will be with us, flesh and blood, throughout the game," Focus said. "They will be modelled, and animated in their Cabalvision studio that will be the main interface for the game.
"The whole game will be presented in a Cabalvision theme - the official Blood Bowl TV - where Jim and Bob will guide players, comment their decisions and will even interview key star players appearing in the huge campaign mode."