Trials Rising beta start date, beta code access and everything else you need to know
How to get playing in the beta for Trials Rising.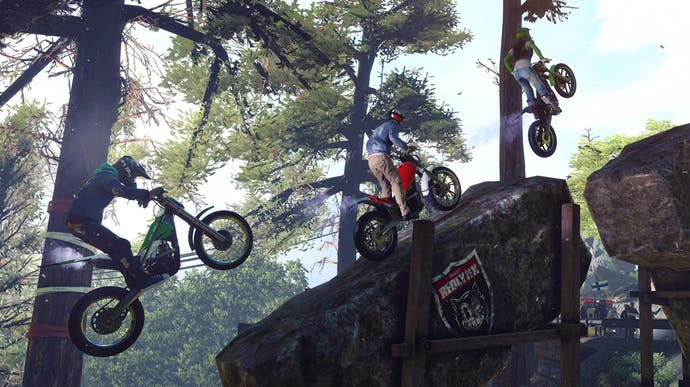 The Trials Rising beta gives you an early hands-on with the return of Ubisoft's challenging dirt racing game.
Details of the closed beta are few and far between, but that won't stop you from signing up on certain platforms ahead of the game's release date of February 12th next year.
Here's everything we know so far on Trials Rising beta - including how you can register your interest off the back of E3 2018 conferences.
Trials Rising beta date and start time
The Trials Rising beta start date is Thursday, September 13th on PS4, Xbox One and PC at the following times:
UK: 11am (BST)
Europe: 12pm (CEST)
East Coast US: 6am (EDT)
West Coast US: 3am (PDT)
The Trials Rising beta end date is also the same for all platforms. It finishes Monday, September 17th at the following end times:
UK: 9am (BST)
Europe: 10am (CEST)
East Coast US: 4am (EDT)
West Coast US: 1am (PDT)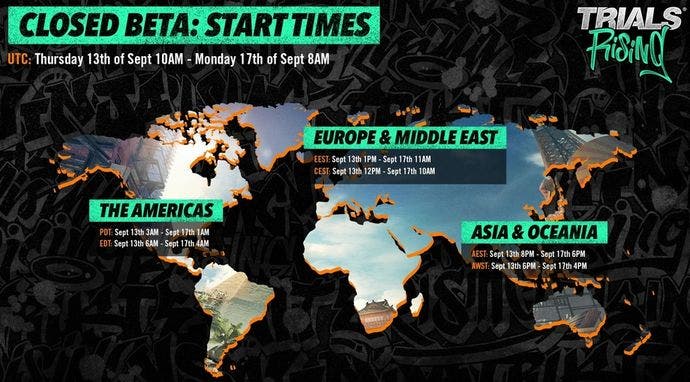 How to get Trials Rising beta access
To sign up for the Trials Rising beta, you'll have to visit Ubisoft's official site.
From there, scroll down to the sign up section, where you can choose your platform. Ubisoft has confirmed to Eurogamer there will be no Switch beta, but all other platforms will feature one.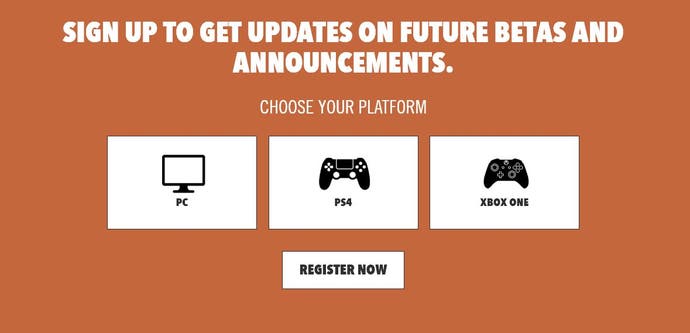 Once you have made your choice between PS4, Xbox One and PC, you'll have to sign into your Uplay account. From there, you've then registered your interest.
It should be noted this won't guarantee beta access. Ubisoft hasn't confirmed specifically how invites will work, but signing up nice and early should improve your chances when the time comes.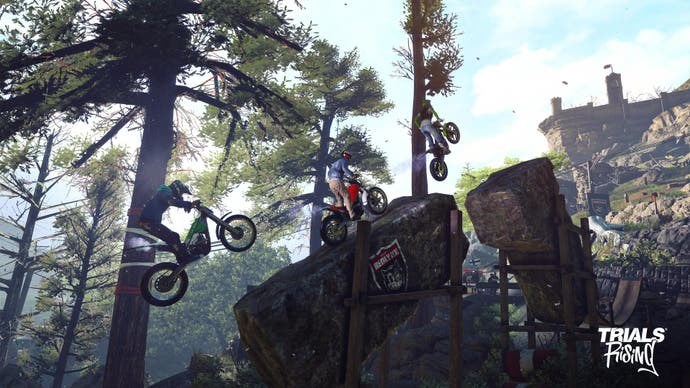 What will the Trials Rising beta be like?
Ubisoft hasn't said what exactly is in the Trials Rising beta, but with previous entry Trials Fusion having one for PC, we might have an idea of what to expect.
That beta featured 14 tracks and two skill games to try out, which could be a sign of things to come for Trials Rising.
It might also be testing some online features, of which there are many, from time-trial style 'ghost' data with leaderboards, to multi-lane track racing, and the ability to share custom tracks with others around the world.
As for timing, Ubisoft has said the Trials Rising beta will be this year, ahead of the game's full release in February 12th, 2019.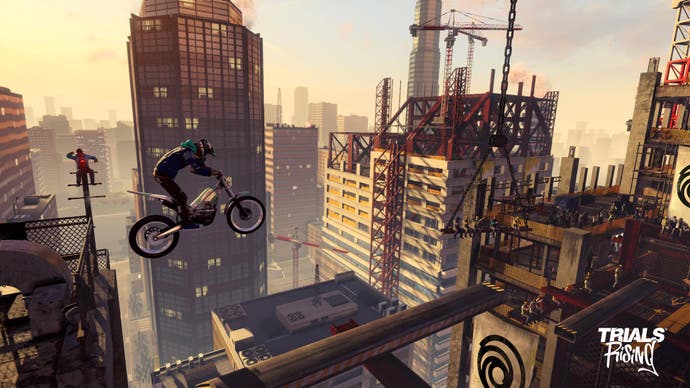 What else you need to know about Trials Rising
Here's the headline features of what's in Trials Rising:
Described as "Trials at its best", it'll have more tracks than any previous game in the series.
Trials Rising looks to be a back-to-basics approach for the series, after recent futuristic and Blood Dragon-themed entries, taking players through scrapyards, castles, forests, cities and hot air balloon-filled canyons.
Expect plenty of local and online multiplayer features, from trial trial ghosts, multi-lane track racing and a new "tandem bike" mode.
There will the tease of "sponsors" in the game, from Fox Racing Gear to KTM and RedLynx, will can offer contracts to complete special challenges.
The Trials track editor will return.
Ubisoft mentioned it has collaborated with Trials fans over the past two years - from YouTube channel the University of Trials to over 20 community members - to help create tutorials and other in-game content.
Trials Rising's Gold Edition will offer the base game and expansion pass, featuring two major DLCs and in-game items. Meanwhile, all pre-orders will offer access to the Jungle Rider and Wild West Rider packs.