Trials Rising cross-platform leaderboards and Switch analogue control explained
How to get the most out of cross-platform play and Switch control of Trials Rising.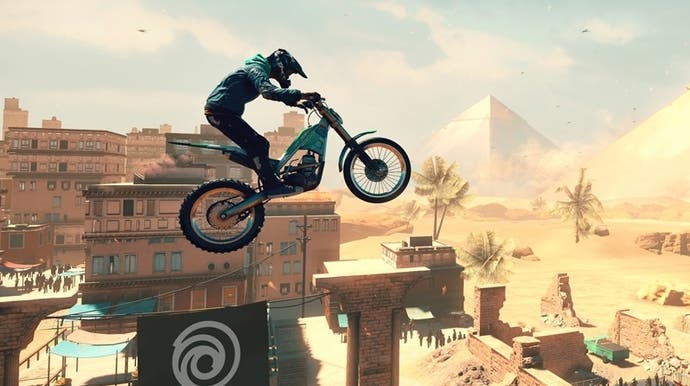 Trials Rising offers cross-platform play for all platforms, allowing you to challenge the performance of another player regardless of whether you're playing on PS4, Xbox One, Switch or PC.
There's a few caveats with how it works - especially when it comes to your friends list - but it means your choice of platform matters less than ever before.
Interested in the future of Trials Rising? Read about the various Trials Rising expansion pass and free post-launch content plans.
How do cross-platform leaderboards work in Trials Rising?
Trials Rising supports cross-platform play for leaderboards, ghosts and rivals, meaning PS4, Xbox One, Switch and PC players can all compete against one another.
For example, leaderboards are automatically composed of all the various players playing the game across all platforms. You don't have to do anything to unlock or see this - the feature works automatically.
There are a few things to note with leaderboards. Anyone with an Ubisoft symbol next to their name is playing on a different platform to you (it doesn't specify which) as seen here: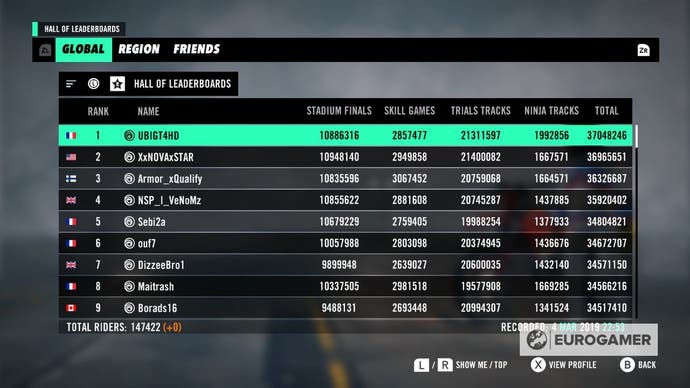 Also, you need to be online when you finish a track for leaderboard times to be uploaded - they won't sync the next time you connect. While on consoles and PC this isn't an issue, playing Switch when away from a connection means your leaderboard times will be absent as a result.
As for cross-platform friends, leaderboards are only populated by those playing on the same system (so your Switch friends on Nintendo Switch, or your PSN friends on PlayStation 4 for example) and those you've added on Ubisoft's own service Uplay.
This means if you are playing on Xbox and know someone is playing on PS4, you have to add them via Uplay before they show up - it doesn't automatically figure out you are friends on that platform, even if Uplay has logged into your Xbox and PS4 accounts from playing other Ubisoft games in the past.
To become Uplay friends, you cannot do this in-game - you have to log in and add them on the Uplay website or app.
Is there cross-play or cross-progression in Trials Rising?
Though cross-platform play is possible with leaderboards, ghosts and rivals, direct player-versus-player matches are not possible - unlike say Fortnite and Rocket League.
The only way this works is if you are playing on the same platform - so Nintendo Switch to Switch, PS4 to PS4, and so on.
On a similar note, there is no cross-progression - meaning you cannot start playing on one system then carry your career progress and unlocks to another.
How to get analogue control in Trials Rising on Switch
One of the apparent drawbacks of the Nintendo Switch version of Trials Rising is the lack of analogue acceleration due to the triggers with the hardware.
However, there are two ways around this. One is using the right analogue stick, whereby pushing up will accelerate by various degrees. It's not as refined as a trigger, but it allows you to power the bike gradually in a way ZR does not.
The second way is by using a GameCube controller, thanks to Trials Rising supporting the GameCube adaptor, allowing you to use the pleasingly chunky analogue triggers for increased control.
Between them, you have an analogue option for however you play - the right stick when playing on the go, and the GameCube controller when docked at home - making those Extreme tracks more beatable.