Tony Hawk's Pro Skater HD soundtrack listing revealed
Radical mix of old and new.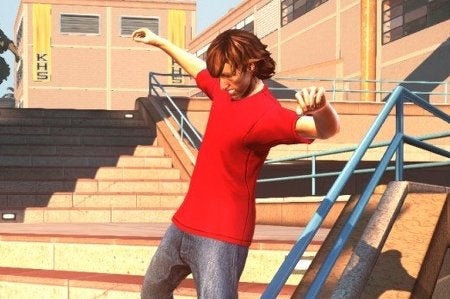 The full track listing for Tony Hawk's Pro Skater HD has been revealed, offering a mix of new and returning tunes.
Seven tracks return from the first two Tony Hawk games, whose levels are re-mixed in the upcoming PlayStation 3 and Xbox 360 HD remake.
Joining those themes are seven fresh songs, all appropriate for listening to in cut-offs and Element t-shirts.
There's no CKY tunes - associated skater Bam Margera joined the franchise in Tony Hawk's Pro Skater 3 - but yet more songs could be on the way in the promised Pro Skater 3 track DLC.
The full soundtrack listing for Tony Hawk's Pro Skater HD lies below:
Returning tracks:
Bring the Noise - Anthrax featuring Chuck D
Superman - Goldfinger
When Worlds Collide - Powerman 5000
Heavy Metal Winner - Consumed
May 16 - Lagwagon
No Cigar - Millencolin
You - Bad Religion
New tracks:
The Bomb - Pigeon John
We the People - Lateef the Truthspeaker
Marathon Mansion! - Pegasuses-XL
Teenage Blood - Apex Manor
Please Ask for Help - Telekinesis
Flyentology (Cassettes Won't Listen Remix) - El-P featuring Trent Reznor
USA - Middle Class Rut