Titanfall beta data mined, new maps discovered
Plus perks, modes, even SplitScreen.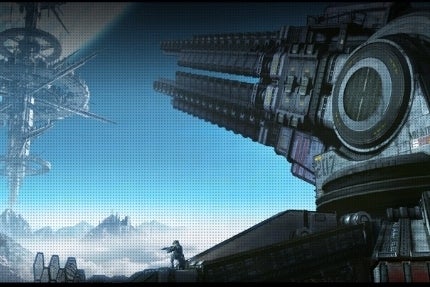 The names of new Titanfall maps, modes and more have been found in the beta game data.
There are the names and title images of 13 maps, and one is called Smuggler's Cove, discovered NeoGAF poster RazorUK (data added to by no1dead on Reddit).
Here they are one by one (NeoGAF has gone a step further and matched existing game screenshots to the new map-names):













Team Deathmatch mode was spotted as well, and so were Campaign Multiplayer and Variety Mode - a mix of the all the modes. The modes available in the beta are Attrition, Hardpoint Domination and Last Titan Standing.
There was even evidence of vertical SplitScreen for those playing on widescreen TVs.
Gamemodes
AT - Attrition?
TDM - Team Deathmatch?
CTF - Capture the Flag?
LTS - Last Titan Standing?
HP- Hardpoint Capture?
VM - Variety Mode (a mix of all the other modes listed, sans campaign)
Campaign Multiplayer
Pilot/Titan Perks
auto_eject - Auto Eject
build_up_nuclear_core - Nuclear Ejection
dash_recharge
dead_mans_trigger
defensive_core
doomed_time - Survivor
enhanced_titan_ai
fast_reload - Fast Autoloader
hyper_core
icepick
longer_bubble - Dome Shield Battery
marathon_core
minimap_ai - Minion Detector
ordnance_pack - Explosive Pack
power_cell - Power Cell
run_and_gun
shield_regen - Regen Booster
stealth_movement
titan_punch
turbo_drop - Warpfall Transmitter
wall_runner - Enhanced Parkour kit
Pilot/Titan Ordinances
arc_grenade
bubble_shield
cloak
cluster_rocket
frag_grenade
heal
homing_rockets
proximity_mine
satchel charge
salvo_rockets
shoulder_rockets
smoke
sonar
vortex
Pilot/Titan Weapons
p2011
p2011sp
p2011_auto
w1128
r97
b3wing
rspn101_carbine
m1a1_hemlok
lmg_hemlok
g2a4
car101
rspn101
at_rifle
rspn101_dmr
SMR
satchel_charge
data_knife
titan_vortex_blocker
xotbr16
thr_40mm
caber_shot
proximity_detonator
frag_grenade
defender_charge
shoulder_rocket
sentry_turret
auto_rocket_launcher
titan_triple_threat
titan_rocket_pod
titan_arc_rifle
titan_sniper_rifle
titan_shotgun
Maps
angel city (Map Set One)
fracture (Map Set Two)
colony
relic
airbase
boneyard
corporate
outpost 207
lagoon
rise
smugglers cove
overlook
nexus
o2
training grounds