Titanfall 2's open beta won't be on PC
UPDATE: Dates, modes and maps revealed.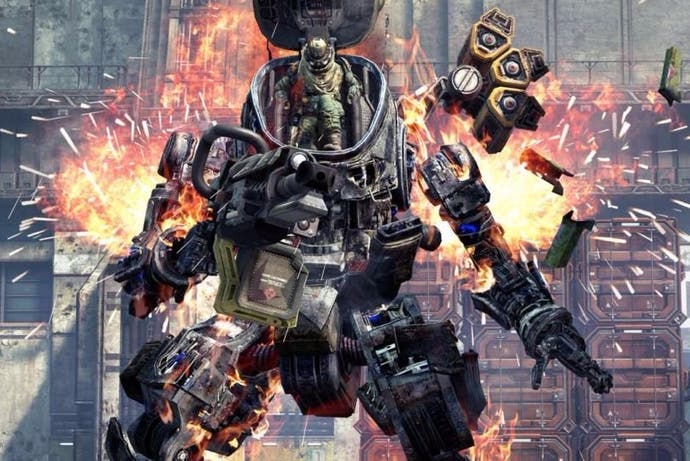 UPDATE 16/08/2016 4.58pm: The Titanfall 2 open beta begins this Friday, 19th August, and runs through 21st August.
A second open beta will kick off the following weekend from 26th-28th August.
The modes that will be available this weekend include Bounty Hunt and Pilots vs. Pilots.
Bounty Hunt is a five vs five mode that pits Pilots against their opposing team and along with the third-party AI Remnant Fleet. Players will need to deposit their points at a bank to receive credit for any of their exploits. Should they get killed before doing so, all their accumulated points will vanish.
Pilots vs Pilots is simply an eight vs eight mode without mechs.
Map-wise, we'll have two to choose from: Boomtown and Homestead. Boomtown is centered around an underground facility with tight lanes and peaked roofs. Homestead is a more open outdoor area full of rocks, trees and a river.
The second test will add an additional mode with Armed Hardpoint, a six vs six variation off the original game's Hardpoint, only now you can amp the beacon you're protecting to earn your team double score. A new map will be introduced in this test called Forward Base Kodai.
Both tests will include access to two new Titans: Ion and Scorch, along with a host of Pilot abilities such as Grapple, Holo Point, and Pulse Blade.
We'll have more on Titanfall's multiplayer with a video / preview going live at 8pm tonight.
ORIGINAL STORY 15/08/2016 8.27pm: Titanfall 2 will receive an open beta ahead of its 28th October release, but it won't be on PC. Respawn founder and CEO Vince Zampella explained in a recent blog post that the open beta will primarily be a stress test to make sure the severs scale properly.
"Since our server backend is per-platform, it means we only actually need a single platform to test this," the developer stated. "More platforms can be a good sanity check, but we don't need to test them all to make sure we are on a good path for launch."
As for why PC is getting the short shrift here, Zampella said this came down to there being too much hardware variety and the studio has been too busy to sort out optimisation for the game's minimum specs.
"We're still making a lot of tweaks and changes to the renderer, the game, and effects so we haven't run the game through the hardware compatibility lab yet to detect and handle a large variety of hardware - video cards, CPUs etc.," Zampella explained. "Quite frankly, we aren't ready to deal with that yet, we are still making the game better. We also haven't done enough work to fully support our 'Min Spec' on PC yet. "
The developer also noted that releasing a PC beta leaves the team more vulnerable to security leaks. "Because the single player story has some wonderful secrets that we really want to preserve for launch, we also have to worry about leaks," Zampella said. "Our wonderfully curious PC players have proven in the past that they will dig out anything they can, and there's a risk that they could spoil some of our single player."
As for when the open beta will go live, that's not officially been announced but Zampella just tweeted "I'd say keep the next two weekends free."