There are a few things you need to know about Call of Duty: Black Ops 3 on PS3 and Xbox 360
Frame-rate! Storage! Other concessions!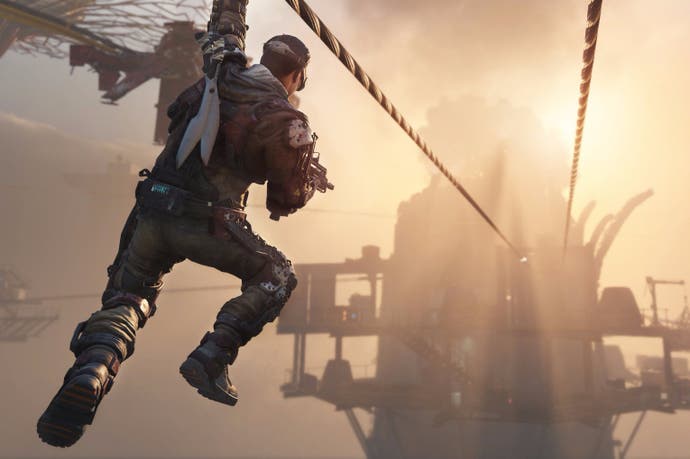 Planning to buy Call of Duty: Black Ops 3 on a last-generation console? There are a few things you need to know.
As Activision has already announced, the PlayStation 3 and Xbox 360 versions of Treyarch's shooter, developed by Beenox and Mercenary Technology, do not include a campaign mode, leaving multiplayer and Zombies as your only options.
Activision and Treyarch have spoken about why this is the case before, most recently in an interview with Eurogamer. In short, Black Ops 3's co-op focused campaign is too much for the last-generation of consoles to handle.
To beef up the last-gen package, a bonus digital full-game download for the original Black Ops comes with the PS3 and Xbox 360 version.
But there are more concessions, outlined in an updated FAQ on Activision's website, that players should be aware of.
Here's the interesting one: the multiplayer mode on PS3 and Xbox 360 will scale between 30 and 60 frames per second. The frame-rate in Zombies mode is 30 frames-per-second.
This news is sure to disappoint Call of Duty fans who are planning to buy the game for last-gen consoles. Call of Duty has for some time now run at 60fps on all platforms, although the last-gen versions of last year's game, Sledgehammer's Advanced Warfare, struggled to hit 60fps at all times on PS3 and Xbox 360. (For more on Advanced Warfare on last-gen consoles, check out Digital Foundry's analysis.)
Meanwhile, the new Weapon Paint Shop and the new eSports tools, such as CODCasting and Theatre, are exclusive to the PC, PS4 and Xbox One versions.
The Black Ops 3 Season Pass is only available on PS4, Xbox One and PC. And it looks like some of the individual DLC packs won't be released on PS3 or Xbox 360 either. Activision said it'll confirm details later.
Some current-gen features do make the cut, however, including the new Specialists classes. The PS3 and Xbox 360 versions also include Shadows of Evil, the new Zombies mode, too.
It's worth noting PS3 users will need 16GB of storage to download Black Ops 3. (That's 8GB for the initial download and 8GB for installation). When it's installed, the game takes up 8GB of storage space. Xbox 360 users need 8GB of space for download and installation.
The PS3 version of the original Black Ops needs 20GB for download and 20GB for installation. Once installed, it will take up 20GB. Xbox 360 users only need 7GB to download Black Ops.