Call of Duty: Black Ops 4 logo spotted on a baseball cap
IIII see what you did there.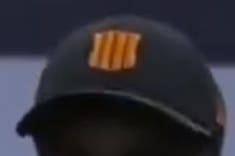 Last month, Eurogamer sources told us this year's Call of Duty game would be Black Ops 4. Last night, eagle-eyed sports fans were treated to a glimpse of its logo.
NBA star James "The Beard" Harden was spotted wearing a baseball cap bearing an orange "IIII" symbol ahead of last night's Houston Rockets vs. Oklahoma City Thunder game.
The moment was filmed and handily posted to ESPN's official NBA Twitter account - so it could be immediately picked up by Call of Duty fans.
A Kotaku report last night confirmed the logo, which is extremely similar to that of Black Ops 3, was indeed that of "Black Ops IIII". (Yes, Activision is going with IIII and not the more common IV.) This morning, Eurogamer heard similar.
Fans were quick to notice the similarities:
And that is how you do viral marketing.
Black Ops 4 is in development at Activision's Treyarch studio, Eurogamer's earlier report confirmed, and due for launch late this year.
Expect to see Black Ops 3's fully sci-fi focus dialled back a notch to better fit the series' recent move to a more grounded feeling, in response to the negative feedback surrounding 2016's space-set Infinite Warfare.
We've asked Activision for comment.