The Sims 4 prepares for a chilly winter with new Japan-themed Snowy Escape expansion
Hot springs! Invigorating walks! Danger!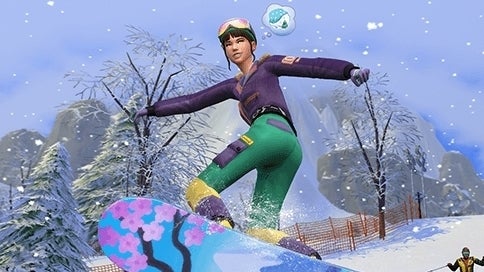 We've barely said goodbye to Batuu, yet EA is back with another expansion for The Sims 4, this time bringing a (rather chilly) touch of Japan to its digital life sim in the form of Snowy Escape, which comes to Xbox One, PS4, and PC on 13th November.
Snowy Escape is The Sims 4's tenth Expansion Pack (as EA calls its larger-scale DLC offerings), following on from the likes of Eco Living, Discover University, and Island Living. As with those expansions, Snowy Escape whisks players away to a brand-new corner of the Sims world for appropriately themed gameplay thrills, this time granting access to the "majestic and serene" vacation resort of Mt. Komorebi.
This Japanese-inspired locale features an onsen bathhouse, scenic hiking spots with mountain and bamboo forest views, plus a whole range of extreme sports activities for Sims to indulge in, including skiing, snowboarding, sledding, and rock climbing. It's also the first of The Sims 4's expansions to feature both rental lots and residential lots, meaning Sims can either visit for a quick getaway or settle down permanently if they prefer.
Elsewhere, Snowy Escape adds 130 new Create a Sim clothing items, including winter wear and modern and traditional Japanese fashion. There are also traditional and modern furniture options, as well as a range of architectural elements, including shoji doors, windows and screens, tatami mats, and paper lanterns. EA also says to expect the likes of koi for decorative fountains, rock gardens, and Japanese maple trees.
Lastly, Snowy Escape introduces a new Lifestyles and Sentiments feature, intended to imbue Sims with deeper personalities. "Up to 16 Lifestyles will manifest in response to a Sim's actions and habits," explains EA, "changing their behaviours significantly more than Create a Sim traits as they reflect a Sim's lived experiences." Sentiments, meanwhile, "represent how two Sims can feel differently about the outcome of a shared experience and have a lasting impact on Sims' relationships to each other, affecting their social interactions."
The Sims 4's Snowy Escape Expansion Pack will cost £34.99/$39.99 USD when it comes to PC, Xbox One, and PlayStation 4 on 13th November.