The Black Tower: An old-but-new RPG inspired by Final Fantasy 7 asking for money on Indiegogo
Oui?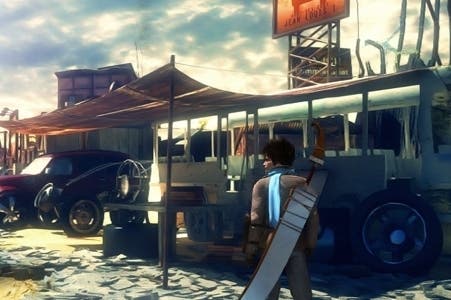 A small team in France wants to recreate the JRPG-thrills of the PlayStation One era in new game TBT: The Black Tower, for PC and Mac.
The team needs your help on Indiegogo to make the dream happen. The not-inconsiderable €328,440 ask appears to be well thought out and accounted for.
The Black Tower makes no secret of its homage to Final Fantasy 7 but does insist it's no copy. There's a prototype that is pretty but raw, and this is acknowledged and discussed at length by the game's creator.
That creator is Simon Mesnard and it's upon his self-published novel La Tour de L'Espace (The Tower in Space) that the game is based. Mesnard also received attention on Vimeo for his 6-minute 2011: A Space Adventure film, which he later turned into a first-person slideshow point-and-click game called ASA: A Space Adventure.
The Black Tower prototype was put together by him and a second artist, plus a programmer and composer.
The full team for Black Tower proper won't be much bigger by the sounds of it, and Mesnard is giving himself a year to get the game made. Fortunately, he's not deluded about what can be achieved. "Have a look at the ending credits of a Final Fantasy," he urged, "how many names can you see? 'Indie' means what it means: you can't wait for an indie developer to create a triple-A game. I want to be clear on that point now and avoid further disappointments."
Nevertheless, The Black Tower is ambitious. There's an awful lot of world and story and art to make, and the legwork-saving Unity engine can only help so much. Can a small team with no real track record pull it off in just a year? Be nice to see them try.