August's Game Pass offerings include Final Fantasy 7 HD and Man of Medan
Plus Darksiders: Genesis and more.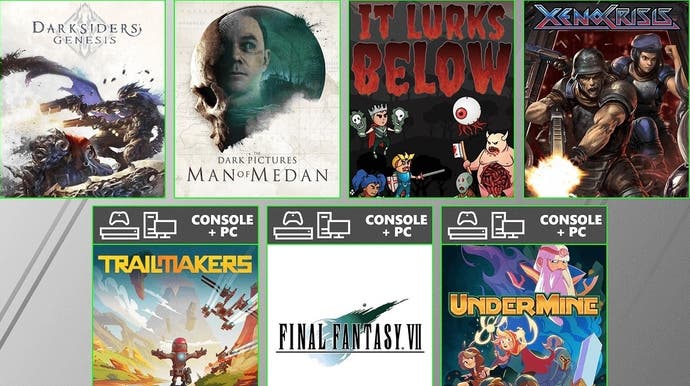 Another month means another selection of Game Pass additions for PC and Xbox One stampeding over the horizon, and August's newly revealed offerings include Final Fantasy 7 HD, The Dark Pictures Anthology: Man of Medan, and Darksiders: Genesis.
Starting with August's console-only additions, Darksiders: Genesis and Man of Medan both arrive tomorrow, 6th August. The former offers a top-down, dungeon-crawler-inspired spin on the long-running action-RPG franchise, this time featuring War and Strife as playable characters, and is supposedly pretty entertaining. Eurogamer's Christian Donlan reckoned it offered "the same old pleasures for this entirely pleasurable series," in his review, "albeit with the odd new trick and delivered from a new perspective."
The spookily enjoyable Man of Medan, meanwhile, is developer Supermassive Games' first entry in its Dark Pictures horror anthology series - a sort of smaller-scale extension of the team's Until Dawn. Like that game, it's a heavily cinematic narrative yarn, in which players are able to direct the action - and determine who lives or dies - to some degree, based on their choices. Man of Medan's nautical tale of teen horror doesn't quite stick the landing, but it's still a decent couple of hours entertainment, particularly with friends.
In addition to the above, four more titles are being added to Game Pass tomorrow, 6th August, this time for both Xbox One and PC. There's action-adventure roguelike UnderMine, "retro-styled, 2D, action-oriented, survival RPG" It Lurks Below, top-down arena shooter Xeno Crisis, and Trailmakers. The latter's an open-world affair in which players design their own boats, planes, and cars (or a combination of the three) to compete in missions and races with friends.
Then, rounding off this month's newly announced selection of Game Pass offerings is classic JRPG Final Fantasy 7. This is the original version of Cloud Strife's seminal journey, albeit given a bit of an HD makeover, and will be making its way to Xbox One and PC on 13th August. Oh, and don't forget that, as announced previously, 18th August will see the breathtaking Microsoft Flight Simulator make its way to Game Pass on PC.
Microsoft also highlights a couple of Game Pass departures this month, with Devil May Cry 5 (Xbox), Kingdom Come: Deliverance (Xbox and PC), Space Hulk: Tactics (PC), Where the Water Tastes Like Wine (PC), and Yoku's Island Express (Xbox and PC) all leaving on 14th August.