Telltale's Minecraft: Story Mode unveiled, stars Patton Oswalt
Along with Paul Rebuens, Brian Posehn and Ashley Johnson.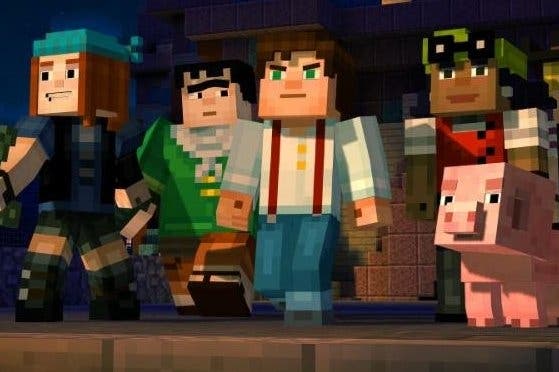 Last year The Walking Dead and The Wolf Among Us developer Telltale announced that it would be making an episodic Minecraft-based narrative adventure series. That project, Minecraft: Story Mode, has now been unveiled at this year's Minecon.
This latest undertaking stars Ratatouille lead and comedian Patton Oswalt as Jesse, a man who must find the legendary adventurers, the Order of the Stone, because "terror is unleashed".
Minecraft: Story Mode's star-studded cast also includes: Brian Posehn, Ashley Johnson, Scott Porter, Martha Plimpton, Dave Fennoy, Corey Feldman, Billy West and Pee-wee Herman himself, Paul Reubens.
Minecraft developer Mojang is collaborating with Telltale on this one, just as Telltale worked with Borderlands developer Gearbox to expand upon its sci-fi western IP in Tales From the Borderlands. Like most Telltale series, Minecraft: Story Mode will be comprised of a five-episode season.
"We've worked closely with the amazing team at Mojang to ensure this story is a natural fit for the Minecraft world fans already know and love," said Telltale CEO and co-founder Kevin Bruner. "As Jesse, players will steer their own path through a tale of adventure and survival; all brought to life by an all-star cast. Through Telltale's choice-based gameplay and a story spanning from the Nether to the Farlands, the End, and beyond, we can't wait for fans to experience this new take on the beloved world of Minecraft."
"The interactive storytellers at Telltale are giving players the chance to explore their own unique interpretation of the Minecraft universe," added Mojang chief word officer Owen Hill. "They've crafted a story that follows the logic of Minecraft, but still manages to feel original. It's actually pretty funny too. And the pig is adorable."
Minecraft: Story Mode will premiere its first episode later this year on PS4, PS3, Xbox One, Xbox 360, PC, Mac, iOS and Android.