Telltale's last completed project, Minecraft: Story Mode for Netflix, is out now
All five interactive episodes streaming as of today.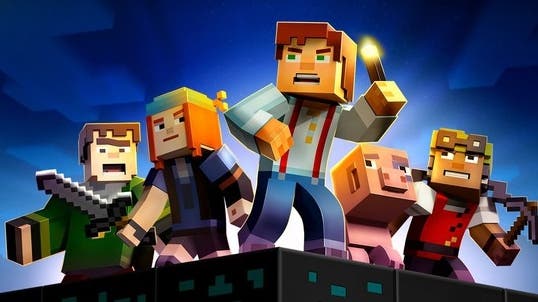 Netflix's Minecraft: Story mode, an interactive TV reworking of Telltale Games' episodic Minecraft adventure, is now available to stream in full. It marks the last Telltale project to be completed in-house, prior to the studio's closure.
When Telltale announced that it had laid off the vast majority of staff earlier this year, it noted that "a small group of 25 employees [would be] staying on to fulfil the company's obligations to its board and partners." Netflix later confirmed that, while its Stranger Things project with Telltale was dead, Minecraft: Story Mode was "still moving forward as planned" at the studio.
That work is evidently complete, and, following the release of an initial batch of episodes last week, the full five-episode run of Minecraft: Story Mode is now available to Netflix subscribers. Netflix's version of Story Mode pares the game's first season back somewhat, focussing on key cinematic sequences and more binary choices compared to the originals.
If you've not yet experienced Story Mode, it's worth a look, even if you've only a passing interest in Minecraft. It's a warm, witty (and obviously family friendly) tale of everyday heroes battling against an ancient evil, full of likeable characters and rollicking adventure - not bad at all considering its almost story-free source material.
With Minecraft: Story Mode now complete, that just leaves Telltale's final season of The Walking Dead to go - although remaining work on this project is now being handled by an external developer. Massive redundancies at Telltale left the season's future uncertain, despite several episodes already having been released at the time.
Since then, however, Skybound - founded by Robert Kirkman, creator of The Walking Dead comic series - has stepped in to complete the game. Release dates for the two remaining episodes, which are being developed by at least some of the original team, are due soon.