Nintendo Switch sales smashed it over Christmas
But will still miss its own ambitious targets.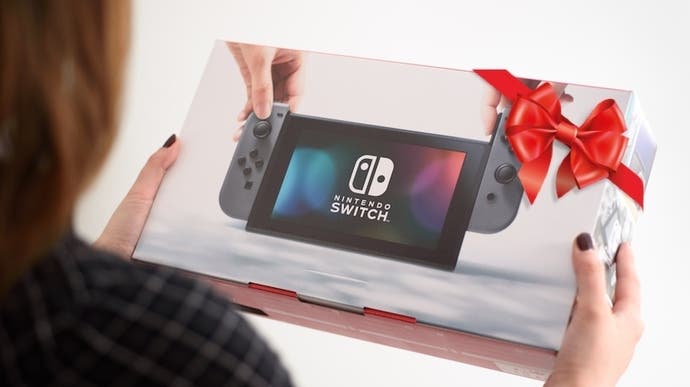 Nintendo bossed the Christmas sales season with an impressive set of hardware and software sales - but this still wasn't enough for the company to meet its own ambitious targets.
Switch hardware sales were up almost 20 per cent year-on-year, game sales were up 100 per cent year-on-year, and all of Nintendo's new releases were hits.
Super Mario Party has now sold 5.3m copies, Pokémon Let's Go Pikachu and Eevee notched up a combined 10m copies, while Super Smash Bros. Ultimate sold a whopping 12.08m just in its first month.
Despite all of that, Nintendo has still had to lower its overambitious 20m Switch hardware sales target for the financial year. After shifting nearly 15m Switch consoles this financial year through to the end of December, Nintendo now predicts it will sell 17m by March 2019's end.
Nintendo's 20m goal always seemed unlikely - and if it hadn't set itself this target we'd probably just be reporting on what a great sales season Switch has had. Now 17m - just 2m further console sales in three months - seems a conservative estimate.
Nintendo cut its 3DS sales forecast too. The ageing handheld limped to another 2m units sold over the Christmas quarter - down 60 per cent on last year.
But it was far from a gloomy performance overall. 20 Switch games are now million sellers, with many of Nintendo's previously-released exclusives selling millions more over the Christmas season. Eight of those top 20 games are non-Nintendo titles - demonstrating the console's broader base of software support.
Super Mario Odyssey is now the best-selling 3D Mario game ever, while Smash Bros. Ultimate is the fastest-selling Nintendo game ever. The best selling Switch game of all, though, is Mario Kart 8 Deluxe - it's now sold 23.44m copies, which means almost half of the entire Switch-owning population has a copy.