Super Smash Bros. Ultimate ditches Trophies for Spirits
Incineroar, Ken and Piranha Plant playable.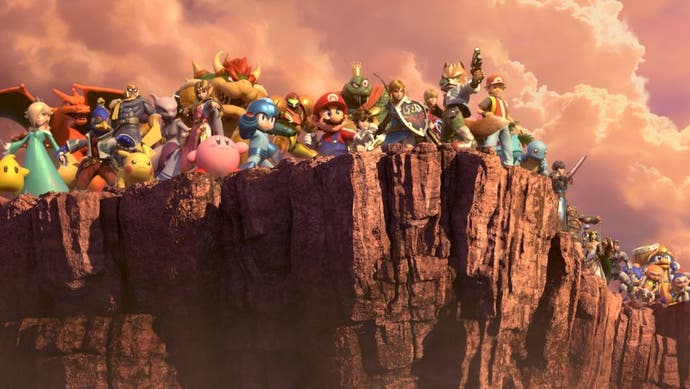 Today's final Super Smash Bros. Ultimate info dump has arrived - and it was as enormous as predicted.
We now know about three new characters, two huge new game modes and the new sticker-like Spirits system, plus various new Assist Trophies, costumes and more.
The three new characters are Street Fighter's Ken (an echo character of the previously-confirmed Ryu), Pokémon Sun and Moon's Incineroar and then, if you pre-order the game, Piranha Plant, which will be released in February.
Five further DLC characters will then arrive, in packs with a stage and new music. Each pack will cost £5.39, or you can get a season pass for all five characters, stages and music for £22.49. All DLC will launch before February 2020.
Apart from new characters, Ultimate's biggest new feature is probably the inclusion of Spirits - stat busting helpers you can apply behind the scenes to your fighters. It's reminiscent of the sticker system in Smash Bros. Brawl.
A "massive number" of Nintendo and third-party characters are included as spirits for you to acquire by winning themed Spirit Battles. So, for example, to unlock the Bullet Bill spirit you fight opponents which attack you with the Bullet Bill weapon. Animal Crossing's Able Sisters can be acquired by fighting in a match against three hedgehogs - three Sonic the Hedgehogs.
Spirits come in different levels and can even be applied to each other, as Support Spirits. You can train up Spirits by feeding them or levelling them in a gym.
Smash Bros. Ultimate's other big new mode is named World of Light. As a story-focused adventure mode it's being kept under wraps, though gameplay showed off an overworld map full of battle stages. A flashy introduction video showed the game's entire cast (save for Kirby) getting wiped out by an invading force. Think Super Smash Brawl's Subspace Emissary meets Avengers' Infinity Snap.
In other news, various other Assist Trophies were confirmed: Project Zero's Yuri, Arms' Spring Man, Flies & Hand from Mario Paint, Vince from Art Academy, Guile from Street Fighter and Akira from Virtua Fighter are all included.
You'll also be able to dress up the Mii Fighters characters in Zelda Breath of the Wild Yiga Clan costumes, as well as others for Splatoon 2's Inklings, Arms' Ribbon Girl, Chibi Robo, Ray Mk III and even Nintendo Labo's Toy-Con.
Want to check up on every fighter in the game at launch? Eurogamer has a full Super Smash Bros. Ultimate character list so you can do just that.