Super Mario Odyssey Purple Shell locations - how to find Purple Seashells in Super Mario Odyssey
How to unlock all Purple Shell coins in Seaside Kingdom.
Purple Shells are one of many varients on the Purple Coin collectibles you'll find dotted around the world in Super Mario Odyssey.
Our Purple Shell Locations guide here on this page will take you through how and where to find them in the Seaside Kingdom, providing specific locations for tricky ones and general tips and tricks for hunting down the rest.
For locations on all the other varients, head back to our Super Mario Odyssey Purple Coin locations hub, or you can cycle back to our main Super Mario Odyssey guide and walkthrough for complete details on every step of your adventure.
Super Mario Odyssey Purple Shell locations - how to find Purple Seashells
Kingdom: Seaside Kingdom
Total Coins: 100
The beachside locale that is the Seaside Kingdom might seem like one of the smaller kingdoms in the game, mainly due to its open-plan layout, but it's actually larger than you think. With that in mind, there will be a total of 100 coins in this area, with each one shaped like a seashell. There's quite a few on high ledges, so use a Gushen to reach these. For those underwater, grab yourself a nearby Cheep Cheep.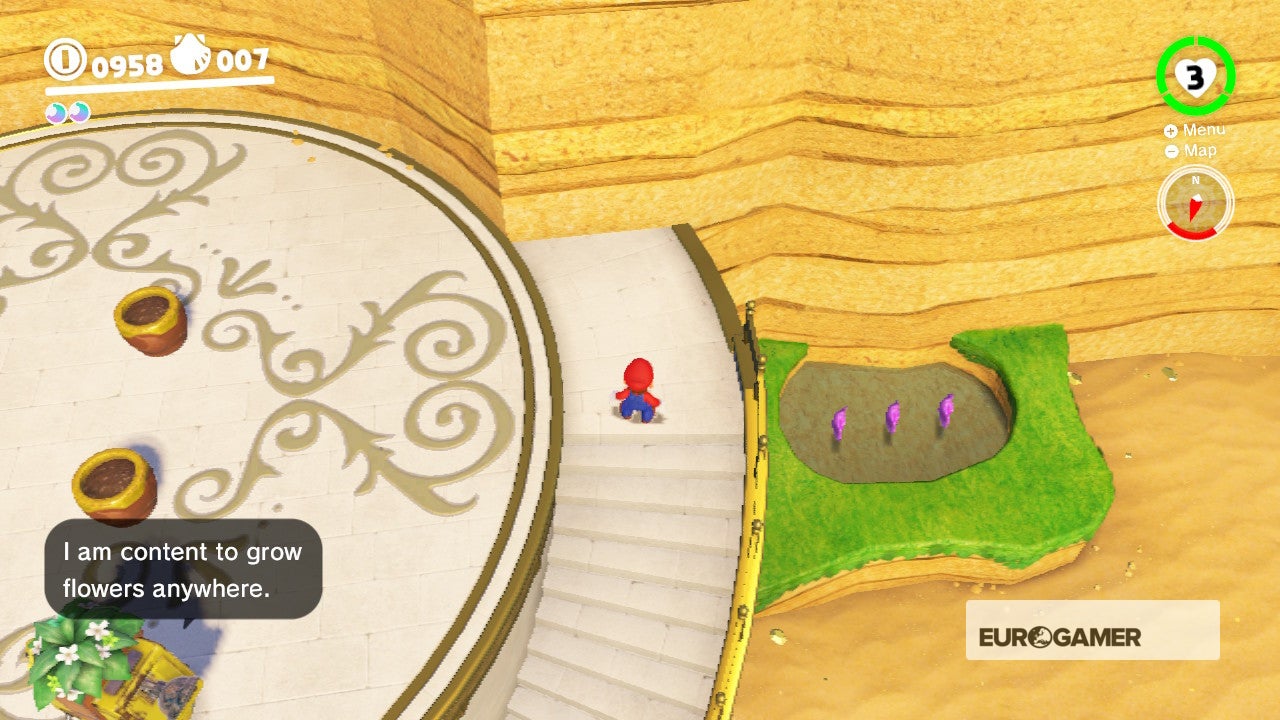 From the Odyssey, look to your right and find a sole pillar on it own by the water's edge. Drop down into the water below and find three coins. Swim back towards the Odyssey and you'll find three more coins on an underwater island in these shallow waters.
Next to the big white building on the south-west side of the map, you'll find three Regional Coins hidden in a sunken pool to the right of the structure. In the water to the right of these coins you'll find three more at the bottom of the water. Float down to collect them. There are three more coins in this inlet - look for an alcove next to a Cheep Cheep swimming around a small rock.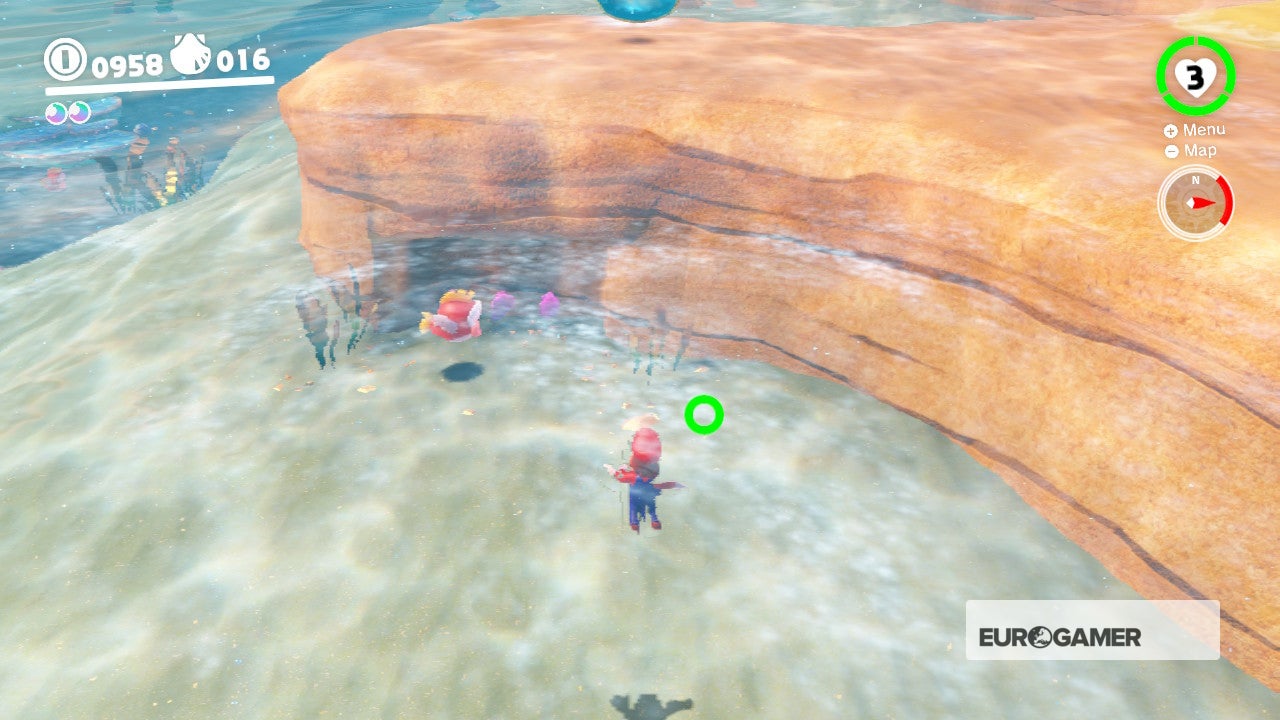 North of the Beach Volleyball marker, look for a Gushen by the edge of the water. Drop into the water and you'll find a Cheep Cheep patrolling a small alcove with three coins hidden inside. Possess the Cheep Cheep and collect your currency.
At the lighthouse, head into the water and swim (or use a Cheep Cheep) to swim underneath the archway and collect three more Regional Coins. From the Ocean Trench West checkpoint, swim down towards the sunken section and collect the three coins on a ledge. Possess a Cheep Cheep as this area is far too deep for Mario to swim on his own.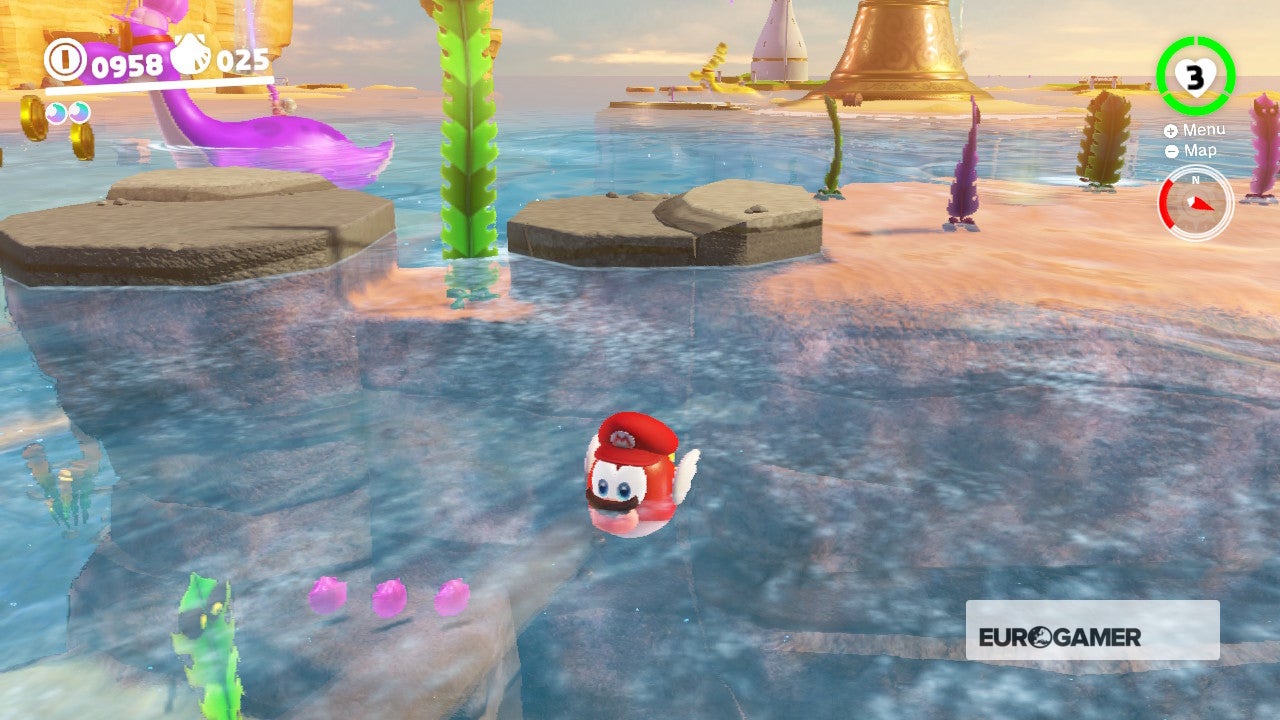 Near the island that has the magma overflow in the story objectives, look for one of those enemies that looks like a floating reed. A green one will be on a sunken ledge by itself (out of the water, that is). Directly below it, three coins can be found on an underwater ledge.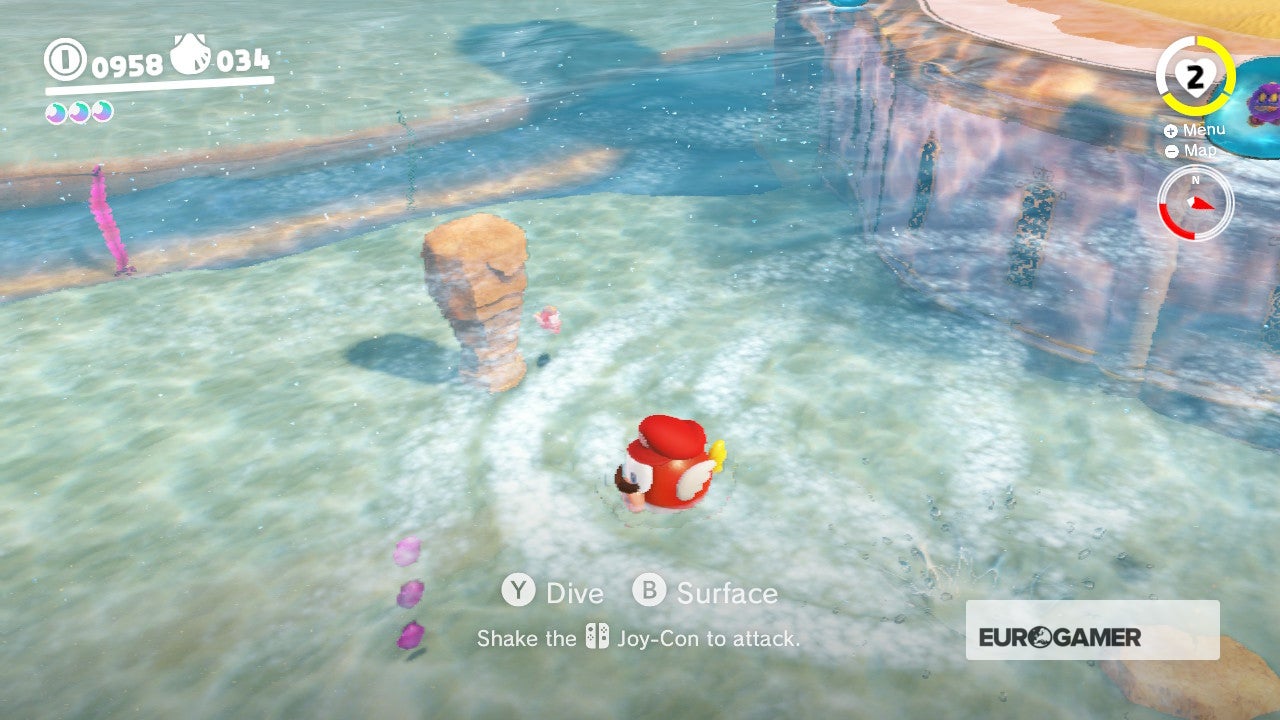 ---
Need more help? Our Super Mario Odyssey guide and walkthrough goes through every objective in each Kingdom, while our Power Moon locations can help you track down the likes of Cascade Kingdom Power Moons, Sand Kingdom Power Moons, Metro Kingdom and New Donk City Power Moons and more collectables. We also have Purple Coin locations for each Kingdom, and if you want to know what to spend it on, we have a hats list, outfits list, stickers list, a souvenirs list as well as a music list to kit out the appearance of both Mario and the Odyssey. Once you've finished the game, check out the free Balloon World update, too.
---
Next to the golden goblet (see the screenshot above), there will be three Regional Coins floating in the water. Be careful, as there are lots of Gushens around here and there spray ability can strip your health in an instant.
Behind the platform with the golden goblet, you'll find a large opening filled with reed enemies. In front of this opening, there will be lots of blue platforms placed on one another like scales. You'll find four Regional Coins around a bubble-making pot. Turn around and you'll see three openings in the coral/rock. There are three coins in the top left-hand hole.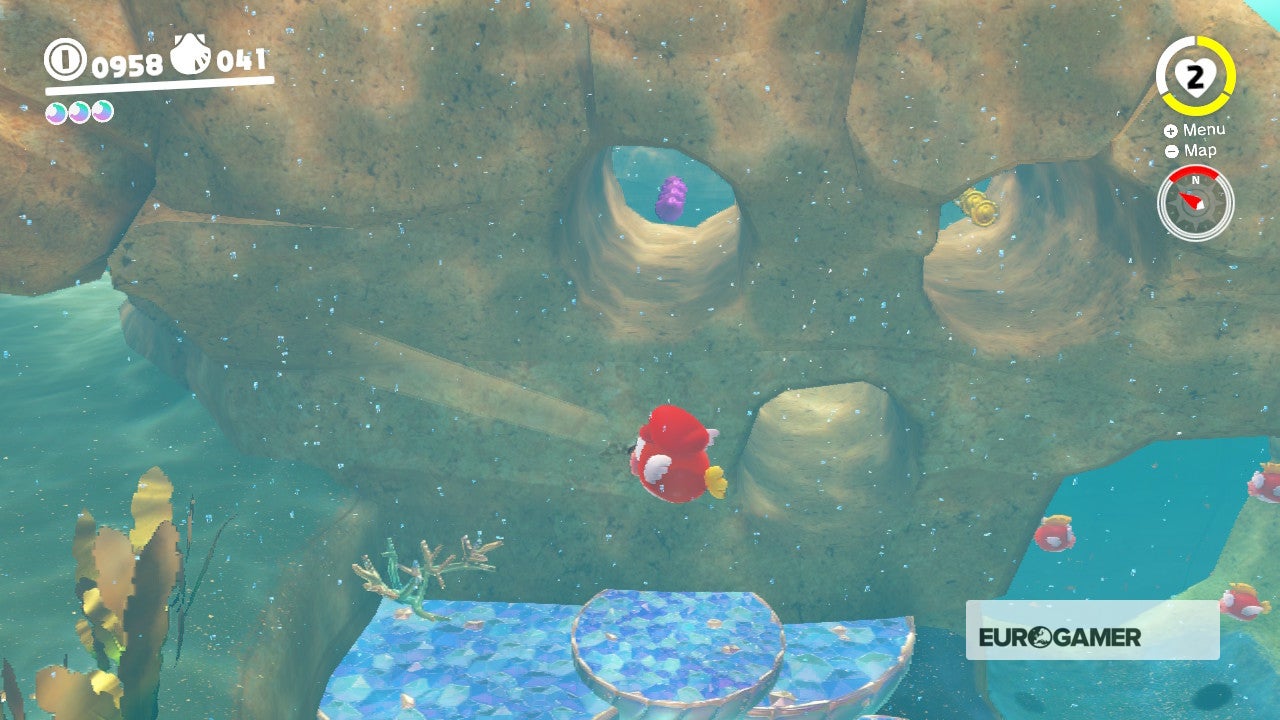 While facing the big opening at the back of the golden goblet platform, turn right and look for a large rocky platform with lots of upside-down reed enemies. There will be a handful of coins in a sunken recess in the middle. Swim low enough so the upside enemies can't reach you.