Summer Game Fest 2022 live report
Keigh3 kicks off with tonight's live show - join us for all the updates from 7pm BST tonight.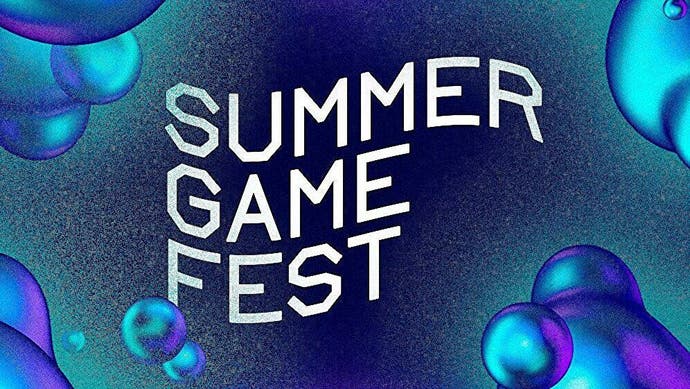 G3, Keigh3, not-E3 - whatever you want to call the next few days of gaming events and news, it all kicks off tonight at 7pm as Geoff Keighley's Summer Game Fest promises us some 90 minutes of updates, reveals and quite likely a good side order of cringe. What to expect? Well, Geoff's said to keep your expectations in check, but that won't stop us wildly speculating anyway. Arms 2? It's happening!
Our live coverage of this event has finished.
Coverage
tomphillipsEG says: Keigh3? Geoffr3? K3igh3 2 Furious?
I am struggling to pronounce these!
Welcome one and all. Just over two hours until the off. Excitement is building. How will you be watching the show tonight? Will you have your dinner on your lap? That's a dangerous arrangement. Will you find a quiet place so you can concentrate fully? What are your G3 plans?
diatoir says: What time is the Persona 5 PC announcement?
Um, 7.30pm? Or maybe on the hour. That's a stronger play.
I have no idea.
I once brushed shoulders with Geoff Keighley, you know. I was sat at the back of an audience at a small game show in Spain and I could hear him talking to himself at the back of the room. It was strange but I quite admire it.
You don't get these kind of anecdotes with Martin.
On that bombshell, I'm disappearing until shortly before 7. See you all then!
What's going on! I have returned. I made my salad too vinegary and it was unpleasant to eat.
How are you all doing? Ready for some Geoff?
The12thMonkey says: Too vinegary? School-boy error...
Well I know! I even put gherkins in it for some absurd reason. Disgusting.
I wonder what Geoff is doing behind the scenes now. Does he do vocal warm-ups? Does he have some kind of ritual he does before shows? Is he in make-up? Maybe he's hob-nobbing with some of his star guests. #WhatIsGeoffDoingRightNow
Perhaps he has been enacting his shrug emoji for the last hour after Sony spilled the beans on The Last of Us PS5 remake.
Bennyjj81 says: Where the fuck is Martin and why is he not doing this while getting pissed in his shed??
I know, I know, we're sorry he's not here too, but he's on a plane to actually see Geoff right now. I'm not even kidding - he's on his way to Keigh3.
He didn't offer me use of his shed.
Ooh, ooh, it's nearly go time. Strap in! To um, your sofa? Because here we go!
There he is! Nice satin coat paired with satin-look trainers. Solid look.
Over the next "few hours?" Christ.
Bennyjj81 says: Haha ok fair. But he should have offered you the shed.
I know! I will feed this back.
Oh ho, what is this? Street Fighter 6! It's coming in 2023. They're confirming a new character but who could it be...
It's Guile! And good lord has he been working out. Look at the size of those pythons. Biceps like loaves of bread.
Bennyjj81 says: I feel this needs some Top Gun: Maverick DLC. Tom Cruise taking on Val Kilmer on that aircraft carrier.
Yes it does!
We've got a new game announcement now. A military operation went wrong and oh my god it's AN ALIEN! A Xenomorph.
It's a lot like Aliens, the film, which I rewatched recently I'll have you know. It's got some great one-liners in.
This game is Aliens! Aliens: Dark Descent, coming 2023 to console and PC.
Now we're seeing the Callisto by Glen Schofield's studio Striking Distance. That's Glen Schofield of Dead Space fame, and this looks to be pulling on much the same vibe.
I love the look of that baseball bat-like weapon.
Oh my god that thing just literally bit his head off.
The Callisto Protocol is coming 2nd December this year. Oh and here's Glen, who doesn't have his head bitten off.
Wow, Glen is gushing with praise for Geoff. Geoff is deflecting and saying it's not about him but I bet he's chuffed with that, he has to be.
We're going to see some "raw gameplay", which I guess just means "gameplay". Oh it's got a gravity gun! We're going to see it I think.
themightyant says: Yep Bertie That death was BRUTAL! I'm all in
Wasn't it?! Lovely, horrible stuff.
I'd be out of there already to be honest. Oh, whoa! There's the gravity gun thing. It's more like a Force Pull, in that you hold up your hand and clench it to pull an enemy to you, which seems ill advised, given they want to kill you.
It looks great, to be fair. I love that claustrophobic camera just over the shoulder. And I appreciate stomping on an enemy that's already downed - this is neglected in too may horror films. Don't want them waking up again, do you!
We've jumped forward in the game now and the hero has a full set of armour on, but, oh no, he gets his hand caught in some kind of cog and he's been minced like a cheap turkey burger.
And that's it all we're seeing.
Now we're onto Modern Warfare 2.
It's pretty-looking, isn't it?
We're watching the Dark Waters mission on an oil rig. No smoking sign there: sensible.
NinjaDeath says: Is this a remake, reboot or remaster?
This is an all-new game - a sequel to the 2019 Modern Warfare that rebooted the series.
It's gorgeous, to be fair.
You know, in Brighton, where I live, you can take a day trip out to a turbine wind farm. I'm sure it's a similar kind of day out.
Nice, um, shipping containers? Wes is going to be so angry with me.
I tell you, it's a good job these soldiers don't get sea sick. Also, it must be really cold out there. They need a good hot chocolate inside them.
Oh and that's it! Modern Warfare 2 is coming 28th October and it's exactly what you're expecting.
Kami says: Oh hai guys, sorry I'm running late, refitting the kitchen lol
Hi! That's a legitimate excuse so you're forgiven.
I appreciate how her lime-green top matches the green of the Modern Warfare 2 logo.
Oh, burning question from Eurogamer writer Matt Wales: will the sea be as good as in Sea of Thieves? Sounds like a showdown to me!
Oh, bit of talk of Warzone 2.0 there. There's going to be a standalone experience of it. It's all going to be on the same engine too.
And on we go, finally. A PC gaming franchise returning after 30 years. What can it be!
Holy! It's Flashback!
Unless I've just really excitedly jumped the gun there. No! I'm right - it's Flashback 2! Coming this winter!
Now we're zipping over to Poland to The Astronauts to see Witchfire, the new shooter that's hitting early access soon, and it looks really good.
Now, a new game announcement. Someone's called Troy Baker already - good shout.
It's something sci-fi - lots of long corridors and air lock style doors. Sounds like a thriller.
It's Fort Solis.
Oh god Troy Baker is on stage. Aren't his feet sweaty in those shoes without socks on?
So this is an indie team from Europe. I didn't catch their name but we'll get it after. They're talking about going indie and taking a risk but, well, I bet money had a lot to do with it.
Good shout on Dead Space! Apparently it was pitched as Dead Space meets Moon.
He actually just said "the verbs are always important". That came out of his mouth. Anyway.
Hophi says: Why won't this end?!
Come on, Hophi, hang in there!
Great story, Troy. I wasn't listening.
Another new game now. Will it also be Dead Space?
No, no, this one looks more real world, although there are definite robo noises. Oh and look there's an evil robot!
This is Routine from Lunar Software and Raw Fury. Appparently it was first announced 10 years ago? I don't remember that.
I meanm, that looked a lot like Dead Space.
Oh my god it's The Rock without his clothes on! I hope he's dressed from the waist down. Or do I?
Haha, I love him, but, mate, way to plug your energy drink!
I tell you what though, Jungle Cruise: good film. He and Emily Blunt are great on screen together.
"Dwayne, Dwayne, you're on!"
"What do I say?"
"I don't know - wing it!"
"Hold my drink."
"..."
"Actually give me that drink back."
Oh, coo, there's a new Rock film! I don't know what this has to do with games. He's someone called Black Adam, which means he's got loads of black paint on. Oh it's a DC hero.
Geoff'll pad with anything.
Ok a new game and a new universe. From Frost Giant Games...
It's Dead Space!
spamdangled says: Don't think we didn't notice your sly edit there about Outriders, Bertie.
Haha, busted!
It's not really Dead Space of course, but it is sci-fi. A lady investigating some kind of ruin - that looked cool. But now she's fighting some kind of demon? And there's a mech that's turned up with a wrist-mounted machine gun and rockets.
It's Stormgate. There's a beta in 2023. I don't know what to make of that, it's all CGI. Who knows what the game is?
Ah, we have someone from Stormgate to tell us.
It's an RTS. This is Tim Morten, CEO of Frost Giant Games. He's from Blizzard, from StarCraft, so there's good pedigree.
Sounds like a thin reveal, talking around the issue a bit.
And there it is: free-to-play.
Ok, those images give it a kind of chunky, cartoony kind of Blizzard look, and yes, it does look a bit like StarCraft mixed with Diablo.
We're not seeing an indie game called Highwater. There's a dinghy on water in a flooded city. It's simple, bold, blocky shapes and strong colours.
It's an adventure strategy game set in a world ravaged by the climate crisis. It's coming this year.
Weebleman says: I thought that boat said ARGOS for a second
Hah, brilliant! They deliver quickly though.
Ooh, ooh, this is Spanish developer Out of the Blue, which made Call of the Sea, and I really liked that.
This is the studio's new game American Arcadia, which is a bit of a spin on the Truman Show, it sounds like. Someone called Trevor is trying to escape the seemingly perfect life.
A game by Coffee Stain North here. Is it Goat Simulator 2?
Goat Simulator 3, even! Yeah, I'm as confused about the second iteration as you are!
Marvel's Midnight Suns here by XCOM studio Firaxis. Ian has a wonderful interview with Jake Solomon on this going up in about 10 minutes, incidentally, which I probably shouldn't say but I have now. So keep an eye out for that.
I don't know half of these Marvel heroes, and I'm excited about that. I'm excited about this game.
Oh and there's a release date: 7th October 2022!
deathofrats0808 says: I feel like they've just skipped Goat Simulator 2 because the whole thing is supposed to be jokey.
I think you've hit the nail on the head!
Geoff casually dropping that he's got a Steam Deck, there. I don't see it on him though. Perhaps it's tucked into his inside pocket.
Cuphead: The Delicious Last Course, a chunky DLC, is coming 30th June. Feels a little bit like they're filling time here.
Brief interlude there and now we're seeing Neon White for Switch. Looks greeat. Really fast, first-person, agile, speed-based shooting.
It's out 16th June, so next week.
This is a single-person-developed game called Midnight Fight Express, made in Poland.
Ooh it looks quite good. A kind of beat-'em-up, shoot-'em-up. High energy, lots of action. Coming 23rd August. Nice.
A PC demo is going live right now on Steam. Hop to it!
We don't have any presents for you watching here for more than half-an-hour, I'm afraid.
Do many of you play Warframe?
I'm still not sure what we're actually seeing. The Duviri Paradox, an update of some kind. But it's a tease for another reveal on 16th June.
deathofrats0808 says: Speaking of Genshin
Spooky! How did you do that!
Weebleman says: Im secretly hoping for some silent hill. I know i wont get any but i can dream.
I will join your hoping!
This is miHoYo's new game Zenless Zone Zero, in case you're wondering.
Ooh, ooh! I'm going to play this next week!
That means you can have the whole Turtles gang plus April and Casey, or Splinter in there somewhere. I am totally in for this.
EvilAspirin says: Announce Dragons Dogma 2 already you cowards!
Yeah, you cowards!
spamdangled says: The devs have been hinting at Casey Jones for a while, so this isn't too much of a surprise. Also: Game pass day one, as many predicted.
Good old Game Pass.
Super People flashed past. Then an update for Humankind.
And Humankind is also coming to console, and it will be on Game Pass.
One Piece Odyssey now. It looks gorgeous but it's hard to know how much of this is gameplay. Huge IP, of course, and it sounds like it's got some big creative names attached.
This is a first listen at the new English voice cast for Soul Hackers 2.
Quick advert break now. Geoff really packs it in.
So what's stood out to you all so far? Anything caught your eye?
Mario and Peach there, lying on the grass, thinking about their life together. Will they save for a deposit on a house?
Metal: Hellsinger from The Outsiders here - David Goldfarb's studio. The demo is live now on all platforms it sounds like. I really like the look of this and I'm not even that much of a metal-head.
Serial_Carpens says: Beautiful hair.
Thank you, I washed it this morning!
Oh.
Ah, Supermassive's The Quarry. It's not getting great reviews, Geoff - Vikki gave it no badge. All the same, I'm excited to play it because I like Supermassive's stuff and playing it with my partner, schlocky though it may be.
Nightingale looks really interesting. This is the game from ex-BioWare leader Aaryn Flynn's studio Inflexion, which was recently bought by Tencent.
I like the look of it. Clearly has a strong focus on multiplayer, but I hope not too much - I hope you can play in small groups or alone, too.
There's a Saints Row Boss Factory demo out now, apparently, in which you can create your character for the game.
Delightfully bonkers. I love a character creator so I'm quite excited about messing around with this.
MrZappa says: This whole live stream is a no badge!
Oh zing!
I'm really excited about Warhammer 40,000: Darktide too. Who wouldn't be? Vermintide was great.
Here we go, Bloober Team. But it's not Silent Hill, it's a return to the world of Layers of Fear.
Kami says: Layers of Fear? Was that Bloober?
It was, yeah. I actually visited Bloober in Cracow in Poland - I've been a couple of times. Layers of Fear is the game that made the studio, really, or at least turned its reputation around. It's put out a couple of average games recently so this could be a really key title for it.
Uh oh, here's Gotham Knights. No shh, don't, don't.
Malek86 says: I hope it's a bit less of a haunted house simulator. Something more like Observer would be nice.
Observer was just lovely. What a great little game, and such a lovely piece for Rutger Hauer to be in too.
Ho ho, here's Naughty Dog and they're joking about the leak earlier.
Neil Druckmann is packing some serious biceps in there. He mentions Naughty Dog is working on multiple projects.
A multiplayer mode has grown into... something. We're going to see some concept art.
This game is as big as any single-player games they've done, if not bigger. It's got its own storyline. It takes place in another part of the United States. Is that the Golden Gate Bridge?
We're hearing about The Last of Us TV show now. There was a lovely image from this today. We're seeing a new image now, of Pedro Pascal and Bella Ramsay hiding under a table.
The last day of filming is tomorrow apparently.
Dare we hope it's going to be good?
"This is going to be the most authentic video game adapatation yet," says Druckers.
Actors Ashley Johnson and Troy Baker on stage now. Troys feet must really smell by now in those shoes. They're playing some new roles they can't talk about yet.
He's deceptively tall, isn't he, Troy?
I do actually love Pedro Pascal, so please be good, please be good.
We're now talking about the leak from earlier. Naughty Dog is remaking, from the ground up, The Last of Us: Part 1. We're seeing it now.
2nd September 2022, in case you're wondering.
We're seeing some side-by-side shots of the remake versus the original. Stood next to each other, you can see the difference. Apparently the better animation means the performances come through better. It's the definitive version of the game, Neil Druckmann says.
Oneandgonetwo says: My house is drafty, gonna call in Keighley as he is an expert at padding. Get on with it….
Nice!
Oh, little jab there from Neil Druckmann about the PlayStation leak earlier. He's working on a new game but it's too early to talk about it.
And that's it! They really did ruin the big finish I guess.
Thank you all for joining us. There's lots more Summer Game Fest, as Geoff keeps telling us, over and over. We'll be back, live, on Sunday afternoon, covering the Bethesda conference. We'll also be picking up all the big news from the intervening shows as it happens.
Thanks for joining us and making that a bit more bearable!
Weebleman says: Cheers Bertie. Pleasure as ever.
Ah, thank you!