Stadia leaks playable build of Ubisoft's Gods & Monsters
Hell.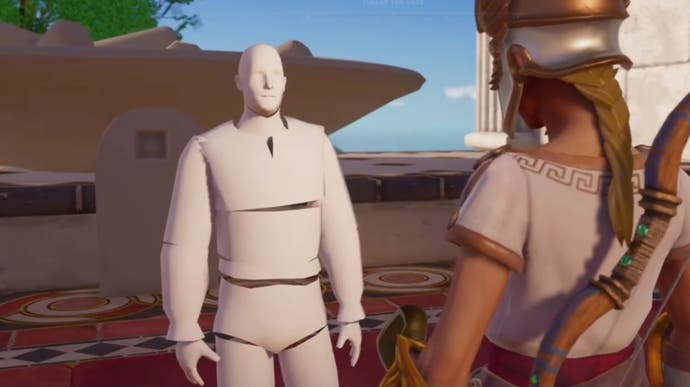 An early build of Gods & Monsters was available to play on Google Stadia last night, following a serious slip-up by the streaming platform.
This unfinished demo version of Ubisoft's fantasy RPG was briefly available on Stadia's store, listed under the code-name Orpheus.
So, of course, people got to playing it. As expected, it looks like a cross between Breath of the Wild and Assassin's Creed Odyssey.
In this demo, climbing uses up a circular stamina bar - a direct copy from Zelda. Combat with big beasties (definitely not found in the real Ancient Greece) also looks similar to that found in Breath of the Wild. Here, the protagonist attacks using sword strikes and quaffs potions to refill a health bar.
The user interface - still placeholder - is lifted directly from Assassin's Creed Odyssey. There's the same compass at the top of the screen and menus showing its quest log.
Dialogue from the game references a mission to bring other gods to the game's world. Items include the Boots of Hermes, which let you double jump.
Ubisoft has now confirmed the leak as coming from a year-old demo of the game - and that it will show its next official look at Gods & Monsters later in the summer. The game will also be getting a new name then, too.
"Our vision for the game formerly known as Gods and Monsters has evolved in surprising ways, which is common when developing exciting new worlds," Ubisoft Quebec exec Marc-Alexis Cote said in a statement issued to Eurogamer.
"This footage is from our E3 2019 demo, which was shown to select press last June and is now over one year old. Much has changed since then in terms of features, tone, art and character design, and even the name of the game. We are hard at work and very excited to finally show players what we have created at the end of summer."
Stadia, in a statement initially to Kotaku also shared with Eurogamer, apologised for the leak and said the demo had only been briefly available.
"Regretfully, on Thursday morning, we mistakenly made an E3 2019 demo version of Gods & Monsters from Ubisoft available on the Stadia store that was not intended for the public to play," a Stadia spokesperson said. "A few hundred gamers were able to play it for less than 30 minutes. We sincerely apologise to our partners at Ubisoft for this mistake."