Someone's designed a nifty Untitled Goose Game Lego set
And you can vote to get it officially released.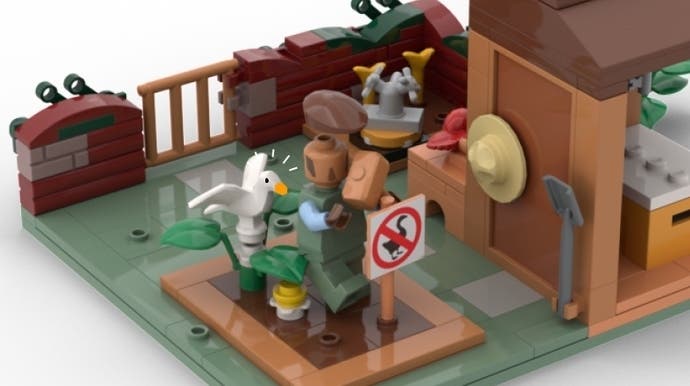 The angry avian star of developer House House's acclaimed Untitled Goose Game, in which nature fights back against humanity in the form of a perpetually disgruntled goose, has already inspired countless fan art delights - but now, thanks to one plucky creator, it's gone full Lego, and you can vote for a chance to get it made into a real set.
Created by someone calling themselves A Fellow Player, the unofficial Untitled Goose Game Lego build (thanks GamesRadar) - themed around goose's memorable early encounter with gardener - took the spotlight yesterday when it was selected as a Staff Pick over on the Lego Ideas website. Lego Ideas, if you're unfamiliar, is an official Lego initiative that enables fans to promote their build projects in a bid to get a proper release.
"The worldwide phenomenon of 2019 comes to LEGO!," reads the Untitled Goose Game submission's description, "Enjoy life as a destructive goose in a small garden. Watch out for the gardener and his many tools! Props Included: Jam, Apple, Sprinkler, Goose Sign, Rose Bush, Carrot, Loose Foliage, Spoon, Shovel, Sun Hat, Hammer, Ice Chest, and a Key."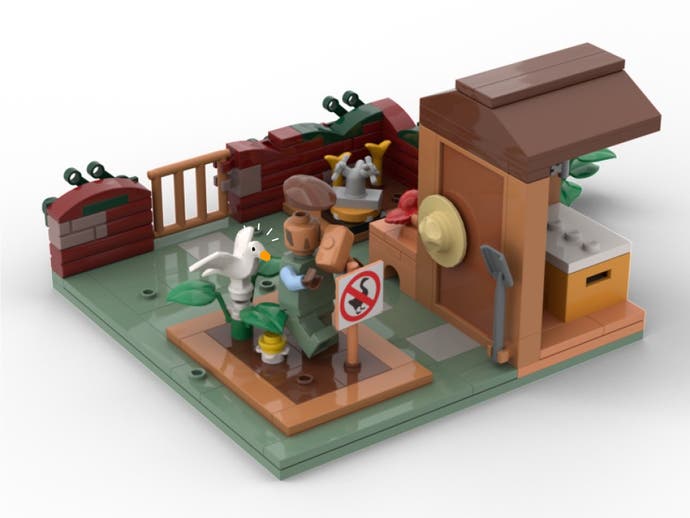 A Fellow Player notes that, ideally, the set would contain more than one minifigure, but says that "no others fit this scene". Even so, it's a delightful little creation, perfectly capturing Untitled Goose Game's delicately muted aesthetic. Farmer looks suitably harried and goose looks appropriately malevolant, even as a static lump of plastic.
At the time of writing, 827 people have lent their support to Untitled Goose Game's Lego Ideas project, meaning that it's got another 410 days in which to amass 1,000 supporters and progress to the next stage of the submission process.
In order to go up for Expert Review, however, a project needs a total of 10,000 supporters, and even then, Lego might ultimately deem it unviable for a full release.
That said, a handful of Lego Ideas projects have made it to shelves in the past, including builds based on Back to the Future, Ghostbusters, Doctor Who, The Flintstones, Steamboat Willie, Minecraft, and more. So if the idea of a goose-y diorama for your mantelpiece appeals, why not visit A Fellow Player's project page and give it your support?