Smite streamer leaves Hi-Rez after controversial comments about suicide
"I couldn't believe what I said."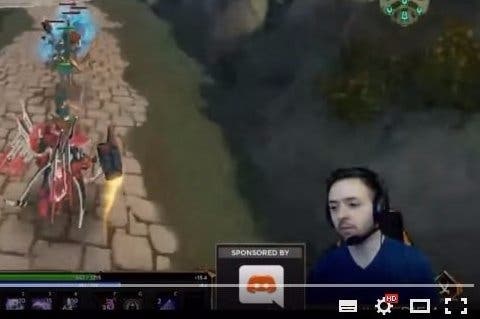 A high-profile Smite streamer has left developer Hi-Rez Studios after making controversial comments about suicide while playing the game.
Brandon "DM Brandon" Nance, who has nearly 80,000 followers and nearly 6.5m views on Twitch, announced his departure from the developer's casting team after he criticised a livestream donor who had attempted suicide.
The donor "tipped" DM Brandon $5, and as a result the following message appeared on-screen:
"Tl;Dr I tried killing myself last August, discovered your videos once I was released, and Smite has become a positive outlet for me. Thanks."
DM Brandon then proceeded to heavily criticise the donor.
"There are a lot of streamers out there that would appreciate that message. I'm just going to call you an asshole.
"It's a selfish, stupid thing to do.
"If you don't like my opinion about that, you can find someone else to watch who's gonna tell you killing yourself is okay. "Go f*** yourself, kid."
DM Brandon proceeds to attack those who "complain" about depression - or, as he puts it, "this constant, ridiculous, self-pity bulls**t".
"Everyone has f***ing depression and anxiousness. Everyone has a hard time f***ing waking up, and still a lot of us do it without putting the burden on a lot of other people.
"There is therapy. There are friends and there are people to help you. And if you decide you are going to end your own life or let this ridiculous debilitating disease ruin your life because you don't know how to deal with it, well then f***ing good."
DM Brandon then turns his attention back onto the donor.
"It's good we inspire you to be better people. But it's not like we don't have these same problems ourselves. When you say things like, 'I was gonna kill myself', why do I want to f***ing hear that? I don't want to f***ing hear you're gonna kill yourself. You're putting a burden on me I don't deserve."
The incident is recorded in the video, below.
DM Brandon, who has a reputation for being outspoken during livestreams, was roundly criticised in a number of threads on the Smite subReddit. Here's a snippet of the response:


Following the reaction to his comments on Reddit, DM Brandon announced in a post on Twitter that he had decided to leave Hi-Rez and quit streaming Smite. He said Hi-Rez should not be blamed for his actions, and while he admitted his comments on suicide were a "mistake", he stopped short of apologising for them.
"As for yesterday: I couldn't believe what I said," he wrote.
"Because I didn't mean it and I certainly did not mean for it to come out as it did. I couldn't understand how I f***ed that up so badly. The stress levels of trying to juggle this lifestyle while keeping up appearances at events, and everything on top got to the point where I was actually f***ing up what I meant to say. But please don't point your hate at others for my mistake."
DM Brandon said he will now focus on streaming and charity work for the rest of 2016.
Hi-Rez, which has yet to comment on the incident, has been criticised for failing to address concerns about DM Brandon's prior conduct. We've asked the company for a response.
UPDATE 1.08pm: Hi-Rez president Stewart Chisam has issued Eurogamer the following statement:
Hi-Rez told Eurogamer following yesterday's event, it made a contribution to the American Foundation for Suicide Prevention.
Eurogamer's Johnny Chiodini has explored the impact games can have on mental health issues in a video miniseries called Low Batteries. The first episode is below.
If you think you or someone you know may be suffering, please don't carry on in silence.
In the UK:
You can call the Rethink advice and information service on 0300 5000 927 (10am-1pm).
Also the Depression Alliance, a charity, has a network of self-help groups.
Samaritans offers a 24-hour confidential helpline: 116 123
In Australia:
You can contact the BeyondBlue support service in 1300 22 4636
In the US:
You can call the Crisis Call Center on 1-800-273-8255 at any time of the day.
If you're more comfortable talking via text than on the phone, 7cupsoftea.com offers an anonymous chat service.