Smite Xbox One closed beta launches, and we're giving away keys
From the maker of Tribes: Ascend.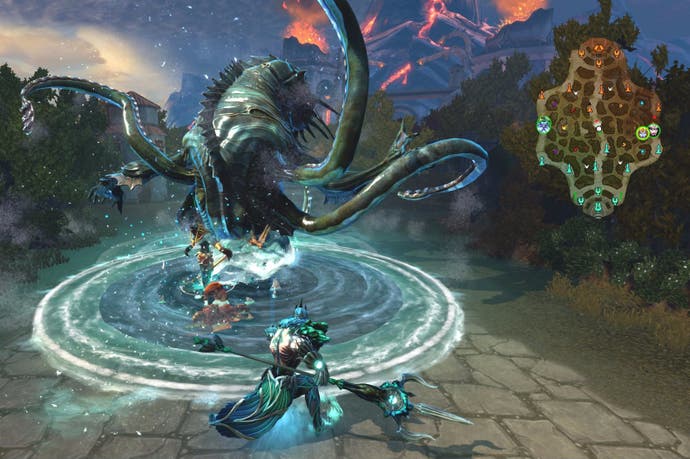 Hi-Rez is a developer with panache. Tribes: Ascend was brilliant. Now there's a new game called Smite, a zoomed in, third-person battle arena. A MOBA with a different perspective, and the sort of thing that would work well on a console.
That's where it's headed, to Xbox One, but it's not finished yet. This is your chance to jump into the closed beta. Simply whack your email address into the box below and we'll chuck you one tomorrow afternoon in time for the weekend. We have 5000 to give away and we'll send out another batch next week if they don't all go - so if you don't see this until the weekend don't panic, you can still put your name down.
The Smite Xbox One closed beta begins today.
Smite is already out on PC and is free-to-play. If you want to migrate to Xbox One because your sofa is really comfortable then you can take advantage of a one-time account merge option. It allows you to take select progress and items across.
Smite is a fast, five-versus-five multiplayer online arena battle. It's pushing into the eSports world on PC and the aim is to do the same on Xbox One. It'll be free-to-play on Xbox One and the full launch is planned for later this year.