Smallville, Walking Dead stars join Lollipop Chainsaw
Ripping voice cast revealed.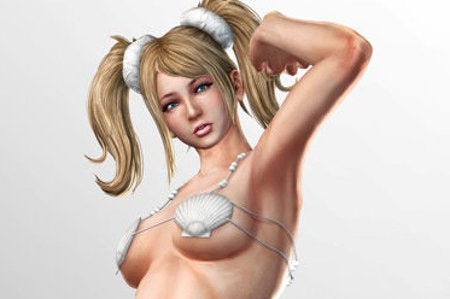 TV show stars from Smallville, Freaks and Geeks, and The Walking Dead have been recruited to voice characters in zombie-slicing adventure Lollipop Chainsaw.
No More Heroes and Shadows of the Damned developer Grasshopper Manufacture employed Slither director James Gunn to aid the cast's voice-over sessions. He also wrote the game's script.
Tara Strong, voice of Harley Quinn in Batman: Arkham City, stars as Lollipop Chainsaw's cheerleading lead Juliet Starling. Ex-Lex Luthor chap Michael Rosenbaum (the bald guy off Smallville) plays the head of Juliet's disembodied boyfriend Nick.
"Juliet is a really fun character to play," Strong said in a new development diary detailing the game's voice cast, viewable below. "She embodies the character of a cheerleader: fun-loving, spirited and happy and ditzy and totally cool. As well as that flip-side of being someone who can take a chainsaw and rip through a zombie and not be disgusted by it."
Juliet's friend Cordelia is played by Freaks and Geeks star Linda Cardellini, while Saw actress Shawnee Smith and Walking Dead bit-part man Michael Rooker also lend their voices.
Juliet's zombie-hunting father is played by veteran TV and film actor Gregg Henry (United 93, Black Dahlia, 24) and Jimmy Urine, front man for US electropunk band Mindless Self Indulgence, contributes to the soundtrack.
Lollipop Chainsaw launches in the UK on 15th June.