Romero reveals unseen Doom art on game's 21st birthday
And some very 1990s team photographs.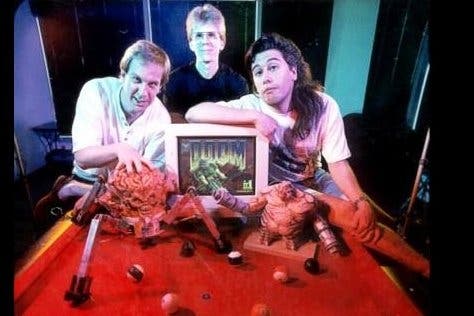 Where would games be today if Doom hadn't happened? 21 years ago it was a real milestone - the establishment of a first-person shooter genre we see so much of, and take for granted, today.
And the people who made Doom, the id Software team - notably John Romero and all his hair - were like living legends. Gaming rock stars. Such were the times.
It's different now of course, but it's nice to take a trip down memory lane and remember. And when better than on the game's 21st birthday? In celebration, Romero has released a splurge of previously unseen art from the game as well some photographs from the time.
There are captions on his Twitter feed for most of the art. I'm only including a handful of his posts here and a gallery of the art below.
Meanwhile, in 2014, id Software is hard at work on a Doom reboot for the current crop of machinery. Only a smattering of details have been released so far and it sounds old-school in design, fast and furious.