Rockstar adding more servers to prepare for GTA Online's launch
But still expects "temperamental" early days.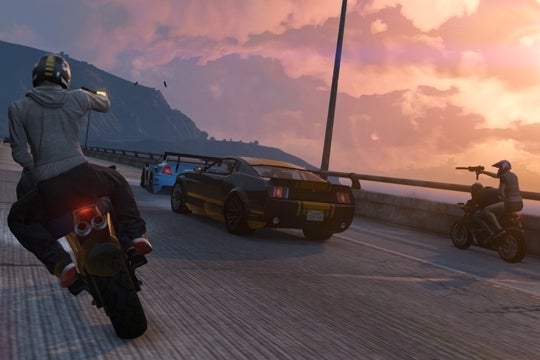 Rockstar is rather excited about the launch of Grand Theft Auto Online next month, but one problem it's facing is that GTA 5 has actually been even more popular than the developer expected, so it's frantically trying to add more servers to meet the demands of its several million players.
"One thing we are already aware of, and are trying to alleviate as fast as we can, is the unanticipated additional pressure on the servers due to a significantly higher number of players than we were anticipating at this point," said Rockstar in its latest blog post. "We are working around the clock to buy and add more servers."
Despite this, the company is still expecting the early days to be a bit rough. "This increased scale is only going to make the first few days even more temperamental than such things usually are," it stated. "This is part of the problem some of you have been experiencing with the iFruit App and some Social Club services - we apologise in advance for this and thank you for your patience in this area."
Given the immense scope of the game, Rockstar is expecting there to be some technical issues like glitches, crashes, or if we're lucky, something like the incredible Donkey Lady in Red Dead Redemption. "There will be the typical growing pains for an online game, including but not limited to crashes, glitches, crazy bugs, gameplay modes and mechanics that need re-balancing and other surprises," Rockstar said. "Even in GTA5 Story Mode, some of you may have seen a few odd and even amusing little glitches out there last week. This sort of thing is inevitable in a massive open-world game and there'll surely be lots more unexpected oddities like this in the Online world next week."
"Rest assured we'll be monitoring and actively doing all we can to smooth such things out as they happen, but we need your help to find them, as well as your feedback to help fine tune all of the game's systems so everything is perfectly balanced."
Rockstar urged players to send submit feedback - including not not only technical issues but likes and dislikes as well - to GTAOnline@rockstargames.com.