Resident Evil 4 gets playful anime short ahead of remake release
Kennedy at the gates.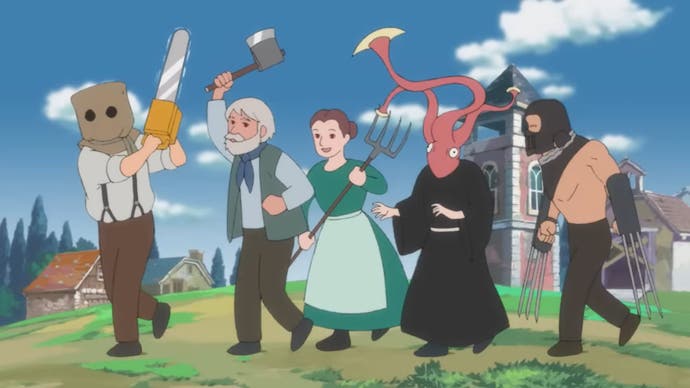 The Resident Evil 4 remake is releasing later this week, and in anticipation Capcom has upped its marketing efforts with a short anime based on the game. While I am no anime critic, I have to say it is glorious.
Titled "Leon and the Mysterious Village", the first episode was released earlier today. It begins with a certain Mr Leon S. Kennedy, wearing everyone's favourite jacket, searching for Ashley.
"I wonder where Ashely went," Leon asks himself in a rather casual manner (although, with his gun still aloft). Ah, a nice villager! Perhaps they will be able to help.
If you have played the original Resident Evil 4, or even just its Chainsaw demo, you will be well aware these villagers are not here to help. Oh no, sir! They are here to slice and dice until that bell tolls. And, slice they do. This anime short ends with a swift blow to Leon's head, and an amusing "You are Dead" screen. I am not going to tell you why it is amusing, I want you to see for yourselves with no spoilers because, well, it is quite something. Have a watch above.
Eurogamer recently awarded the Resident Evil 4 Remake a Recommended badge, stating it's "about as good as remakes get".
"Resident Evil 4 Remake... [displays] a confidence in both the original game's strengths and its own innovations to deliver something that feels at once intimately familiar to old fans and excitingly fresh for newcomers," Aoife wrote in her review.
If you are looking for something to do ahead of the Resi 4 remake's release (which is this Friday, 24th March for PS5, Xbox Series X/S, PS4 and PC via Steam), you can give the game's demo a whirl now, as well as the prequel-like ARG "Baby Eagle is missing".