Rainbow Six Siege players unhappy at timed-event with paid-only cosmetic packs
UPDATE: Ubisoft offers free skin, won't increase Standard Edition price.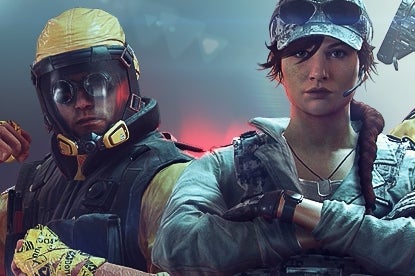 UPDATE 30/1/18: Ubisoft has responded to the fan outcry over recent Rainbow Six Siege announcements by offering players a free premium skin.
The Ash Sidewinder Elite skin will be unlocked for all players at the launch of Year 3 Season 1 - you just need to play an online match between now and 6th March to earn it.
Writing on the Rainbow Six Siege reddit, Ubisoft also said it would keep the game's Standard Edition at its current price and would soon announce more details for Starter Edition owners on acquiring more Operators - a key concern among players who bring in friends who then do not have access to all the same content.
There's no change to the upcoming premium Outbreak packs, then, although the response to the above from fans seems positive.
---
ORIGINAL STORY 26/1/18: Ubisoft has announced a set of snazzy new cosmetic items for Rainbow Six Siege which can only be obtained by opening blind packs obtained during the game's upcoming four-week Outbreak event.

50 items are being added to special Outbreak packs. These cost 300 R6 Credits and contain a random item from the 50. You can only obtain R6 credits by paying real-world money, and 300 R6 credits costs around £1.50.
To obtain every item from the selection you would need to buy 50 packs to guarantee the item you want - which means spending up to £75.
All players will, however, get four packs free.
"The Outbreak Collection is composed of a total of 50 unique items, and no duplicates. What this means is, if you acquire 50 Outbreak Packs, we guarantee that you will have the entire Collection, including the Elite Uniform," Ubisoft explained.
"They will contain universal weapon skins, unique weapon skins, headgear, uniforms, charms, as well as an Outbreak Collection exclusive of this season's Elite Uniform. While there is a unique variation of the Elite Uniform available in the Outbreak Packs, the standard version of this Elite Uniform will be available for direct purchase once the event has started. All items in the pack will be either Rare, Epic, Legendary, and there will not be any content overlap between the Outbreak Packs and the Alpha Packs."
Ubisoft has stressed the fact that none of these rewards contain gameplay-affecting elements. All items are cosmetic. But fans are still upset at the way these packs are being doled out - with an additional 10 free packs being given to new owners of the game.
The game's re-named Standard Edition (now the Advanced Edition) contains 10 Outbreak cosmetic packs. So too does the newly revamped Gold Edition, which contains the pass for the game's Year 3 content, and the newly updated Complete Edition, which contains everything the game has had to offer so far across year one and two as well.
There's a long thread on the Rainbow Six subreddit where existing hardcore fans are expressing their disappointment at packs.
"I've been playing Siege since it launched in 2015," wrote fan Liquid7778. "I've bought every Year Pass, I've spent at least 150$ on Siege Points, and I've played over 400 hours. I find out today that in your Outbreak Event, you're releasing Outbreak Packs that can only be obtained through spending real world money on virtual currency. Not only that, but the people who are buying your newly $60 game are going to be receiving 10 more of those packs, than someone like me who has been there every step of the way, giving you money, supporting your game, letting everybody and their mother know that Siege is the game to play and you need to buy it now."
It's a common sentiment:
"I bought the 100$ complete edition and the 30$ year 3 pass and the people who are going to buy the 60$ version are going to get 10 more packs than me, wtf," added RobinPilliams.
Rainbow Six Siege has, to date, enjoyed a warm reception from fans - which some feel Ubisoft is now putting to the test.
"Ubisoft has realised the good will they've built up, so they're probably trying to push the playerbase with what they imagine is a reasonable limit," night-wing-politics suggested. "That's why they've pulled this for Siege, and added lootboxes for Ghost Recon Wildlands."
We've asked Ubisoft for more on whether all players might get the 10 pack offer.