Rainbow Six: Siege now offers a budget-priced Starter Edition on PC
Requires a lot more grinding and is only available for two weeks.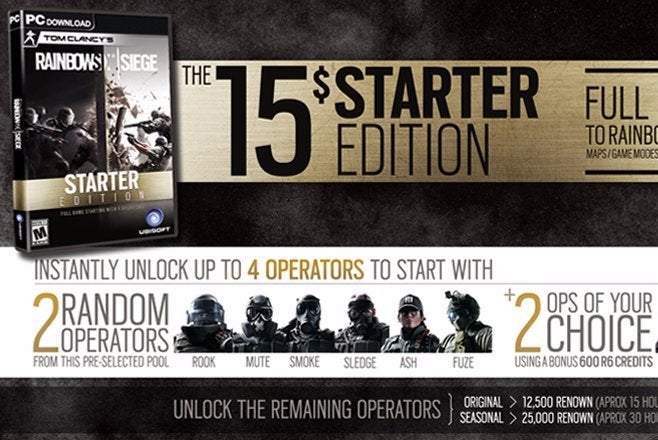 Rainbow Six: Siege can now be purchased on PC at a discounted price via a new Starter Edition that eschews many of the game's features.
For a mere £12 / €15 / $15, players can purchase this Starter Edition that offers an initial two Operators (randomly chosen from Rook, Sledge, Ash, Fuze, Mute, and Smoke) along with 600 R6 Credits that can be used to unlock another two Operators (or other unlocks, should you wish).
Unlocking further Operators works a bit differently in this budget priced Starter Edition. Each Operator will be unlocked after earning 12,500 renown. Comparatively, in the full-priced Standard Edition Operators are unlocked with only 500-2000 renown.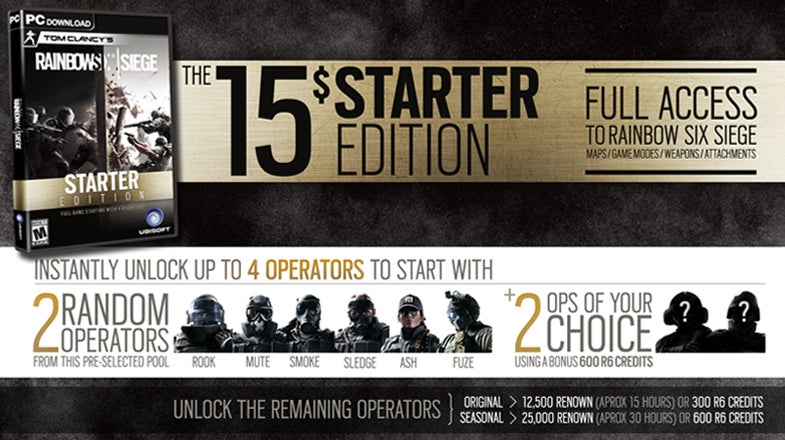 Other than that, the Starter Edition still contains all of the same content. All the same maps, modes, weapons, DLC, servers and matchmaking options are in line with the game's Standard Edition. It's just a lot grindier is all.
Should players purchase the Rainbow Six: Siege Starter Edition then decide they want the full roster of Operators, they can purchase access to all 16 characters by snagging a €35 / $35 R6 Credits Bundle.
The Rainbow Six: Siege Starter Pack is a limited time offer, however, and it will only be available through 16th June. Those who purchase it will retain access to it after the promo period is over.
This isn't the first time a full-priced retail product offered a leaner budget-priced PC version for a limited time. Back in February Activision offered players a chance to buy a bare-bones multiplayer-only version of Call of Duty: Black Ops 3 for a quarter of the full game's price.
What do you make of this peculiar payment model? Is it enough to sway you into giving Rainbow Sig: Siege a go? Our Martin Robinson quite liked it, but with the caveat that it really requires a full suite of friends to get much out of.
"If you're able to pull together a squad of friends, and able to make the plans necessary to see this at its best, there's nothing quite like it," Martin wrote in his Rainbow Six: Siege review. "Measured, tactical and frequently surprising, Rainbow Six Siege is one of the best multiplayer experiences of the year - but it comes at a cost."