PSP outdoing Wii and DS in Japan
Mint colour freshens-up charts.
The release of a Mint Green model has boosted the PSP to the top of the Japanese hardware charts.
An extra 20,000 sales were racked up last week, bringing the total to 73,706 sold in seven days and pushing Sony's handheld ahead of regional best-sellers Wii and DS.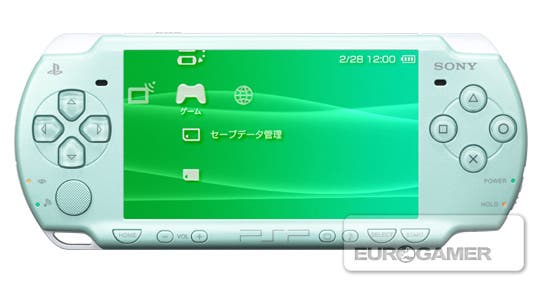 Nintendo was also toppled from the number one spot in the software charts as Super Smash Bros. Brawl dropped to two behind Gundam Musou Special - an expanded port of Dynasty Warriors: Gundam - for PS2.
However, Nintendo still secured seven other places in the Top 10. Meanwhile, Xbox 360 sequel The Idolmaster: Live for You was at five and PSP entry Warriors: Orochi made it to seven.
Here's that Media Create chart in full.
Hardware
PlayStation Portable: 73,706
Nintendo Wii: 64,535
Nintendo DS: 51,922
PlayStation 3: 13,520
PlayStation 2: 10,986
Xbox 360: 2282
Software
Gundam Musou Special (PS2)
Super Smash Bros Brawl (Wii)
Wii Fit (Wii)
Soma Bringer (DS)
The Idolmaster: Live for You (360)
Etrian Odyssey II: The Royal Grail (DS)
Musou Orochi (PSP)
Harvest Moon: Shining Sun and Friends (DS)
Wii Sports (Wii)
Winning Eleven Play Maker 2008 (Wii)