Pastoria City, Gym Puzzle solution and how to beat Leader Crasher Wake in Pokémon Brilliant Diamond and Shining Pearl
Our complete guide to Pokémon BDSP's trainers, items, and wild Pokémon.
Pastoria City is next on your quest in Pokémon Brilliant Diamond and Shining Pearl, following on from Route 213 in your adventure.
Below we'll take you through all the key details for the location, including any Pokémon encounters, trainers, and items that might be available, plus a walkthrough of your key objectives and anything else you'll need to know.
On this page:
Pastoria City Pokémon, trainers and items
Pastoria City is a fairly small, but significant city in Sinnoh, sandwiched between Route 213 to the east, Route 212 to the west, the coast to the south and the Great Marsh - the Sinnoh region's equivalent to the "Safari Zone" - to the north.
For this page we're going to detail the city itself - including the Gym, in the seciton below - while the following page will detail the Great Marsh, as it's a pretty big area!
As soon as you enter Pastoria City, you'll notice a very shifty Team Galactic Grunt nearby, who's talking about something rather sinster, setting of a package or bomb of some sort!
Around the rest of town, there's the Move Relearner in the house near the water in the south of town, who can allow your Pokémon to re-learn a move they've forgotten or which they would have learned at an earlier level, for the price of one Heart Scale.
In one of the houses there's a lady who'll give you a different berry each day. The kid with a net, in another house, will give you a Macho Brace (a useful item for EV training Pokémon) if you've caught all kinds of Burmy.
Aside from those things, you have two objectives here. First is to defeat the Gym, which we tackle below. The next is to explore the Great Marsh, and especially to pick up the TM for Defog from in there, which adds the app to your Pokétch - you'll need that for exploring specific routes soon after this!
After you've beaten the Gym, be sure to talk to that Grunt near the entrance to town as well, as that's what prompts your next objective...
Items
| Items | Location |
| --- | --- |
| Flora Stickers B | From lady with Parasol near east gate |
| 4x Perso, Berries | In centre of town |
| 4x Nanam Berries | In centre of town |
| Full Heal | Hidden - in large puddle in south-west of town |
Pastoria Gym puzzle solution and how to beat Gym Leader Crasher Wake
Pastoria City Gym has a fairly complex-looking puzzle to it, which you'll need to solve if you want to reach, and ultimately defeat, the Gym Leader here, Crasher Wake.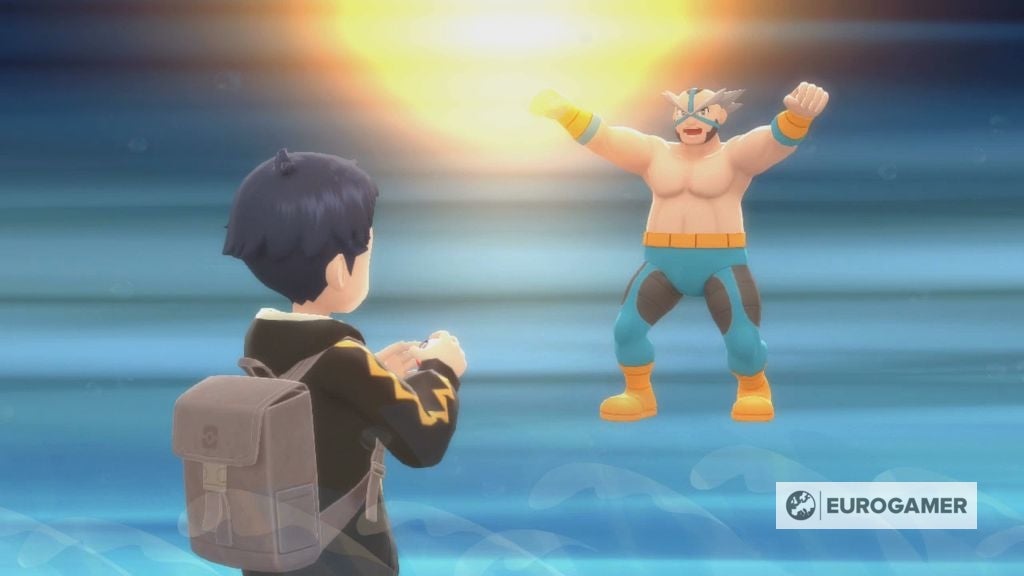 We've mapped out the solution for you, so simply follow the steps below and you'll be in front of him in no time.
Pastoria Gym puzzle solution:
Head left, battle Tuber Jacky, then stand on the Yellow button
Then go down the steps next to him, ignore the green button, and go north through the shallow water until you reach Fisher Walter
Press the Green button to the right of him
Then work your way over to the left of the Gym to battle Sailor Damian
Press the Blue button next to him
Walk south, then go all the way east to Tuber Caitlyn
Then go north to Fisher Erick
Then stand on the Green button just north of him
Go right then as far south as you can go, ignoring the pair of buttons on your left, to stand on the Orange button in the lower corner
Then go back north and down the steps into the shallow water, working your way over to the north-west corner with Sailor Samson
Stand on the Blue button next to him - you can now exit by going up to the Gym Leader Crasher Wake and around the sides of the room, to go heal, or just take him on right away!
Items
| Items | Location |
| --- | --- |
| Fen Badge | From Crasher Wake when you defeat him |
| Wake's Stickers | From Crasher Wake when you defeat him |
| 5x TM55 Brine | From Crasher Wake when you defeat him |
Trainers and Opponents
Trainers
Pokémon
Level
Tuber Jacky
Buizel
Lv.26
Fisher Walter
Barboach
Lv.26
Sailor Damian
Wingull
Wingull
Lv.24
Lv.24
Tuber Caitlyn
Azurill
Marill
Lv.24
Lv.24
Fisher Erick
Goldeen
Barboach
Gyarados
Lv.22
Lv.23
Lv.24
Sailor Samson
Shellos
Wingull
Shellos
Lv.24
Lv.24
Lv.24
Gym Leader Crasher Wake
Gyarados
Quagsire
Floatzel
Lv.27
Lv.27
Lv.30
Pokémon Trainer Barry
Starly
Grotle
Buizel
Ponyta
Lv.26
Lv.31
Lv.26
Lv.27
When it comes to battling Crasher Wake, the first thing to look out for is Ice Fang on his Gyarados, which will cause you some issues if you decided to go for a Grass-type here against his Water-type team. You're better off opening with Electric-types like Luxray or Electabuzz!
Floatzel also has Ice Fang, while Quagsire is immune to Electric attacks, which means this when you'll want to swap in that Grass-type (or at least a Pokémon with a Grass-type attack) to deal with it.
Otherwise, it's hopefully not the most challenging battle in the world, as Wake's Pokmon are all the same sort of level as your last Gym battle in Veilstone City.
Once you've defeated him, head outside to heal up - you'll now be able to use the Defog Hidden Move in the wild once you have the app for your Pokétch!
This is where you have a few more objectives ahead of you before you can properly progress. First, head to the Great Marsh and make sure you at least get the Defog TM in there - more details on our specific Great Marsh explainer page!
After defeating Gym Leader Crasher Wake
After you've both won at the Gym and acquired the Defog hidden move, talk to that weird Team Galactic Grunt in the north of town by the exit. He'll run off eastwards, back through Route 213. You'll need to chase him, speaking to him several times: first on Route 213, then at the Hotel Grand Lake, then finally at Valor Lakefront.
Before you leave, Barry will also turn up and battle you!
Trainers
Pokémon
Level
Pokémon Trainer Barry (if you chose Piplup)
Starly
Grotle
Buizel
Ponyta
Lv.26
Lv.31
Lv.26
Lv.27
Pokémon Trainer Barry (if you chose Turtwig)
Starly
Roselia
Buizel
Monferno
Lv.26
Lv.27
Lv.26
Lv.31
Pokémon Trainer Barry (if you chose Chimchar)
Starly
Roselia
Ponyta
Prinplup
Lv.26
Lv.26
Lv.27
Lv.31
Team Galactic Grunt
Glameow
Lv.25
Once you've defeated Barry and chased the Grunt - and defeated the Grunt too - Cynthia will show up. She'll be at Valor Lakefront talking to the scientists who are guarding the entrance. Speak to her, and she gives you something called the Secret Medicine - it'll get rid of those Psyduck that are blocking the route north way back towards the start of Route 210, from Solaceon Town!
You now have two options: you can use Fly from the Pokétch or Town Map, to go directly to Route 210 (via Veilstone City). Or, you can take the scenic route, literally, by flying or biking it back to Pastoria, and heading west from there on foot via the very long Route 212 and Pokémon Mansion, which eventually leads you to Hearthome City. It's your choice!
Either way, Hearthome City's Gym Leader still isn't there, so Route 210 North, past the Psyduck, is ultimately your next destination!
For more guides and links to the rest of our walkthrough pages meanwhile, return to our main Pokémon Brilliant Diamond and Shining Pearl walkthrough hub.