PlayStation Showcase live report
God of War! Gran Turismo! Ape Escape? Join us for the fun from 9pm BST.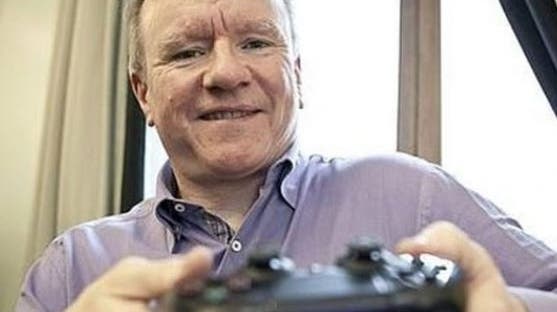 Sony gave E3 a miss once again this year, but that doesn't mean they don't have a big show for us - expect reveals, release dates and surprises live from 9pm BST.
Our live coverage of this event has finished.
Cor you lot are keen! There's still five hours to go!
But also hell yes am I excited for tonight, and not just because it will bring fresh news on Gran Turismo 7.
It's because they also did an update for GT Sport today and I'm sure it's a trojan horse for something and I can't wait to find out what.
Then we'll also get to see the game with the angry bald man too I guess.
Just under one hour to go now. Who's excited?
I am - partly because of the prospect at the look at some new and exciting video games, and partly because I predict this will be the most on edge live report in some time.
And when I say on edge, I mean I'll be on the edge of consciousness because I've been up since 5am and have just had a big glass of cheap red wine with my dinner.
I reckon there'll be enough to keep me awake, tho.
Gran Turismo 7 and the new God of War are pretty much guaranteed - and guaranteed to have me on the edge of my seat a little - then there's the potential for a look at what Bluepoint's up to next, as well as a look a little further out for the future of PlayStation.
It's easy to forget it's been a long time since we've had an update from PlayStation - that's a big stretch of silence, so I'm sure they'll have plenty to say.
If the whispers I've heard have any substance, this could be a fun 40 minutes.
Anyway, I'm going to step away for a short while - I'll see you back here 15 minutes before the big show starts!
Look I don't want to admit I'm massively the worse for wear but I've just been replaying some of Death Stranding and the story is making total sense.
This might be a long 40 minutes for me.
I wonder if Kojima might make an appearance tonight? Even though there are murmurings that KJP are being courted by Microsoft that shouldn't rule out an appearance endorsing the rumoured Metal Gear Solid remake, or finally revealing Abandoned really is Silent Hills.
I mean of course not. Maybe there's one final Death Stranding Director's Cut trailer for us all though.
I'm baaaack! And my living room is now doused in the blue from this holding screen some 12 minutes before kick-off.
A sweet 303 line kicks in there too - it's like Ceephax just hijacked the normal ambient music you get for these holding screens.
While I love the convenience of doing these from my living room, I do wish I was sat in some far away auditorium waiting for the show to start.
There's just that extra bit of electricity when it's an actual live event.
Anyway, to recreate the experience I've just turned my internet off and am now trying to login to the local pub's wifi connection.
Will we get the big boss presenting? I sort of hope so, and not only because of my massive crush on Mr. Ryan.
It'd just be nice to have that personal touch, y'know.
What kind of biscuits though? We need details!
On the soundtrack side of things, Ceephax has stepped aside for some more sombre piano, which can only mean we're just five minutes away from the start.
Ah, no wonder you kept that quiet. A lovely biscuit, but one with a troublesome history.
Anyway, we're not here to talk about Nazis tonight! This show is nearly go!
I'm not familiar with the history of jaffa cakes, but I bet there's some nasty shit there if you dig deep enough.
Still, a lovely biscuit. I just saw an advert for the 'Jonut' today - a half donut, half jaffa cake - and I just thought that must have been a good day in the office for whoever thought that one up.
bcdcdude: Apologies... But C'mon Shenmue IV !!
I'm with you. BELIEVE!
I love that somehow Sony still runs late to these things.
Unless my stream is super delayed?
Why are we watching a 2004 advert for PlayStation?
But you do sometimes get the impression some of the people who call the shots at Sony might have had a bit too much upnose.
Still, it's stylish and maybe this is what the kids are into these days.
Well, that was something.
I have to say, though, I am sort of into the PS2-era arrogance around Sony that's back.
Not into its bullshit on pricing and whatnot though, obviously.
Is that one button undone on his shirt?
My knees actually trembled at that.
Mostly because of Jim's undone button, but also because of this KOTOR remake.
Which now seems to be a PS5 exclusive? Disappointing not to see any footage there.
Aspyr are good - they have handled the previous ports of KOTOR - but I'd like to see what a remake from them looks like.
Or whatever that mad Capcom thing was.
This is an awesome looking action game in the vein of Bayonetta and Devil May Cry - which had me thinking it's Pragmata for a second.
But - well, I don't know what it is, but it sure looks like a slightly janky Platinum game to me.
It's enjoyably overblown, I'll give it that.
From a Korean studio called Shift Up.
I was just going to keep respectfully silent, but...
It's only upwards from that! Here's Luminous Studio's new thing.
So Forspoken, then - our first proper look at it.
Sorry, took some time Googling what it was called - I'm blaming the pub's shit wifi.
I was enjoying it until what sounded like Danny Wallace turned up.
Huge young adult vibes from this, which obviously worked wonders for Horizon Zero Dawn.
This looks like an equally lavish AAA thing.
With a fair bit of meat to its bones - consider us very interested!
Here's the new Rainbow Six spinoff which I've already forgotten the name of.
Extraction! That's the one!
Because the original name of Rainbow Six: Track and Trace wasn't go to fly anymore.
I'd actually love to play Rainbow Six: Track and Trace.
Sounds like a proper old school Rainbow Six. As opposed to this weird new thing.
ShiftBreaker: What if we mixed The Division and Metal Gear Survive? Haha, just kidding. Unless...
The dream!
Remedy's Alan is Awake remaster is up next. Yes please.
Yup, this and improved cutscenes and all sorts of awesome stuff!
Don't hate me for this - I'm really excited for the next gen versions of GTA5.
Though to be honest it's hard to see much of an upgrade in that trailer.
Euronymous: You're hated now Martin
*sadface*
GhostWire: Tokyo! Looking very much like an early 00s Atlus game.
I mean that as a compliment! I just think of Maken X whenever I see this.
But, like, a good Maken X.
This has been great so far - no real let up and some fun surprises.
Here is Guardians of the Galaxy!
ganonms: No mention to Bethesda or Microsoft in that Ghostwire trailer...
Ha, good spot! I sort of wondered where they were!
The writing seemed bubbly enough, but the animation couldn't quite keep up. Still looked like a lot of fun, mind.
Oh this is the Vampire Masquerade battle royale that I believe is out already?
I was going to say this is basically an advert - but this whole 40 minutes is an advert so that would have been something of a nonsense.
Deathloop! Which is out next week, and which I think I'm allowed to say I really like?
Or like what I've played of, at least - which for embargo purposes is the first five hours.
It's mad and stylish and a bit more action-oriented than the likes of Dishonored.
Apologies for the brief silence there - my laptop crashed just as the Kid A/Amnesia Radiohead experience by Epic Games was announced. Glitchcore!
But here's Uncharted 4 and The Lost Legacy being remastered for PS5 and PC.
Now that Sony's got Nixxes I think PC's a big part of everything they do now.
Hermen Hulst also has one of his shirt buttons undone.
I'm jelly. My knees trembling.
Everyone else will be getting in a tizz about this Wolverine game from Insomniac.
And I'm just thinking about Hermen and Jim's undone shirt buttons.
Yeah fuck all that though, here's Gran Turismo 7.
Being absolutely brilliantly overblown with church organ music grinding over pistons and Porsches.
And the Porsche 917 Living Legend concept I think?
Would much rather it was a proper 917.
The return of career mode, as previously trailed - and it looks to amp up the collectathon side of things.
Car mods are back too - as excited as I am for that I wonder whether they'll get close to what you can do in Forza.
Trial Mountain! The GR Yaris!
JEEPS! More Vision cars! Skylines drifting through Tokyo! LE MANS AT NIGHT AND IN THE RAIN!
LE MANS AT NIGHT AND IN THE RAIN.
I'd really like to play that video game please.
And this Spiderman sequel too while you're at it.
Wolverine is a long way off, I'd imagine. I'm up for Venom in Spiderman 2 though - which itself isn't until 2023.
You might even be looking at 2025 for Wolverine.
Here, then, is the new God of War.
He doesn't look any happier than last time out.
I need to endeavour a bit more with the most recent God of War - I've bounced off it hard twice. Which is odd as I've loved the older games.
I think I just really dislike that kid.
This looks a lot like more God of War, though, which I'm sure will delight many.
Aye that it does. God of War Ragnarok looking very meaty indeed upon our first look at it.
And that's the meat of the show, I believe.
A strong showing, I thought - I'd love more dates and details when it comes to the likes of Gran Turismo 7, but of course I do.
Wolverine was a pleasant surprise, Spiderman 2 is of course a yes please.
(oh I missed that Gran Turismo 7 is out next March!)
Feel free to tune out - because that's exactly what I'm doing now!
It's been lovely having you here along with me. The news team, who have more stamina than me, will be keeping the site updated with the drip of information from this post-show section. I, however, am off to bed.
themightyant: Enjoy the pub Martin!
I WASN'T IN THE PUB! I WAS JUST USING THEIR WIFI.
Also this bottle of wine I just had would have cost like £15 in the pub as opposed to the fiver it cost me.