Planet Coaster is going a bit Indiana Jones with its new jungle-inspired theme pack
UPDATE: Out now, with a nifty launch trailer.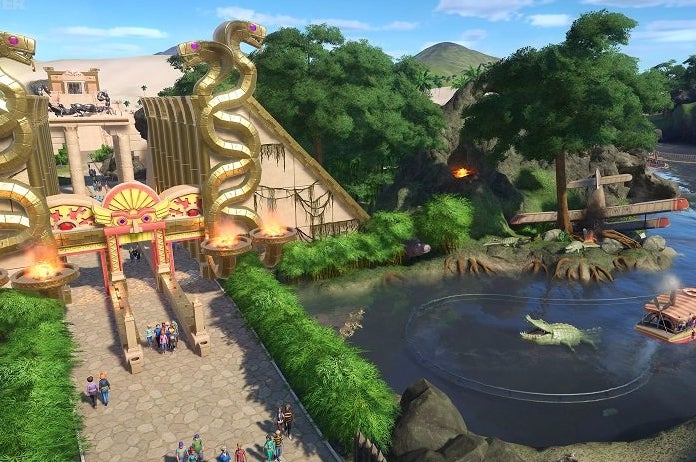 UPDATE 18/12/17: Planet Coaster's Indiana Jones-style Adventure Pack DLC expansion is out now, and is absolutely stuffed with beautifully designed pieces for those looking to inject a touch of 1930s pulp adventure into their theme park creations.
Alongside the abundance of expected new items - including jungle-appropriate trees, special effects, wildlife animatronics, and Aztec temple parts - it brings a heap of wonderful animated decorations. The best of these are the new Indy-style temple traps, ranging from swinging blades to spinning spikes, with a classic rolling boulder thrown in for good measure. They're the perfect way to pep up your daring mine cart rides, or, I guess, to add a bit of unexpected trauma to your souvenir shop queue.
Planet Coaster's Adventure Pack DLC is priced at £7.99 / $10.99, and you can see its exotic wares in the excellent launch trailer below.
ORIGINAL STORY 8/12/17: Frontier has announced the Adventure Pack, a sizeable new paid DLC theme pack for Planet Coaster. It features a selection of rides, decorations, and props designed to bring a touch of classic jungle-themed pulp adventure to your parks, with scenery options including thick foliage, roaring waterfalls, mysterious temples, and even animatronic wildlife.
The Adventure Pack is the second theme expansion for Planet Coaster, following on from the Halloween-inspired Spooky Pack, and introduces Indiana Jones-style thrills in the form of three new rides. There's Gold Fever, a mine cart ride that can careen through caverns and caves (or anywhere else you fancy), plus two new boat rides.
The Island Adventure is a high-capacity guided steamboat ride, designed for use on large bodies of water, while Land Ahoy is a smaller variant that includes its own custom water channel, offering greater flexibility in terms of park placement.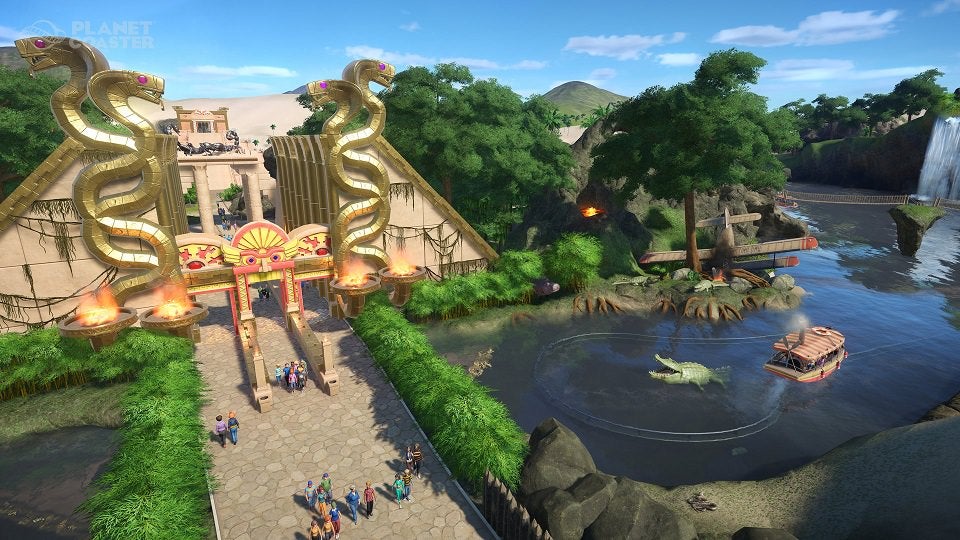 As for scenery, the Adventure Pack includes new themed wall sets, with both static and animated attachments, plus doors, fences, animated props and triggered coaster doors, signs, special effects, and shop and path extras. There are animatronic animals to add a bit of life to your jungle, and a new entertainer character, Renee Feu.
"Create your own pyramids, temples, and other jungle structures", says Frontier of the Adventure Pack's new theming options, "Lure your guests into ancient traps and have them encounter some truly scary creatures including crocodiles, hippos, or even mummies!"
There's no footage of the Adventure Pack's new additions just yet, but a single announcement image shows tantalising glimpses of a downed plane prop, thick tree roots along swampy waters, rope bridges, and even a proper waterfall - exactly the kind of things you'd need to create an oasis of adventure for your park guests. As a Planet Coaster fan with a bit of a thing for the 1930s-style pulp aesthetic, I'm pretty excited about this one!
Planet Coaster's Adventure Pack will cost £7.99 / $10.99 when it arrives on December 18th.
Frontier has also announced that it will release a free Planet Coaster update soon, adding a number of smaller features and quality of life improvements, including UI tweaks and vista points, where guests can gather for photo opportunities.