Planet Coaster's Vintage DLC celebrates the "golden age" of theme parks
UPDATE: Out now, with a lovely launch trailer.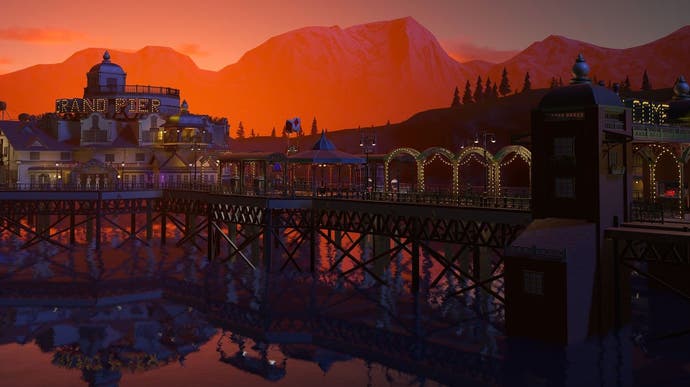 UPDATE 10/7/18: Planet Coaster's new Vintage Pack DLC update, which adds a host of new building elements to the base game - all inspired by the golden age of theme parks in the early 20th century - is out now, and there's a lovely launch trailer to accompany its release.
The new video offers a welcome look at the various new scenery items, rides, props, and visual effects included in the DLC expansion, and I'm happy to see that it's considerably more impressive than Frontier's somewhat vague initial announcement made it sound.
Previous DLCs (the Spooky Pack, Adventure Pack, and Studios Pack) have offered new thematic twists on the core game's modern-day theme park aesthetic, but the Vintage Pack finally gives park builders the tools to create spaces with a notably different ambience - all wooden promenades, twinkling lights, and charming period detail.
If any of that wholesome nostalgia takes your fancy, Planet Coaster's Vintage Pack is available now on Steam. Frontier's also having a celebratory sale, with the base game discounted by 55% to £13.49, and all DLC packs, excluding the Vintage Pack, costing £6.79 (down from £7.99).
---
ORIGINAL STORY 3/7/18: Planet Coaster's next paid DLC update, which comes to PC on July 10th, offers a celebration of theme parking's "golden age" in the early 20th century.
It's called the Vintage Pack and introduces seven new rides, "dozens" of scenery props, new visual effects, vending machines, and some old-time musical ambience, including barbershop-quartet-style harmonies - all intended to capture "the spirit of the timeless golden age of outdoor entertainment" and enable players to create nostalgic parks inspired by the likes of Coney Island, town fairs, and end-of-the-pier seaside amusements.
On the coaster front, there's the Zephyrus - from the 1920s, and one of the world's first high-speed wooden coasters - and Aces Sky. New rides include Round the World (a Ferris Wheel paired with rotating gondolas), the twin cabin inverting Loop Da Loop, an inverting plane ride known as Test Flight, the twisting Hurricane, and, finally, the classic centrifuge ride Centrum.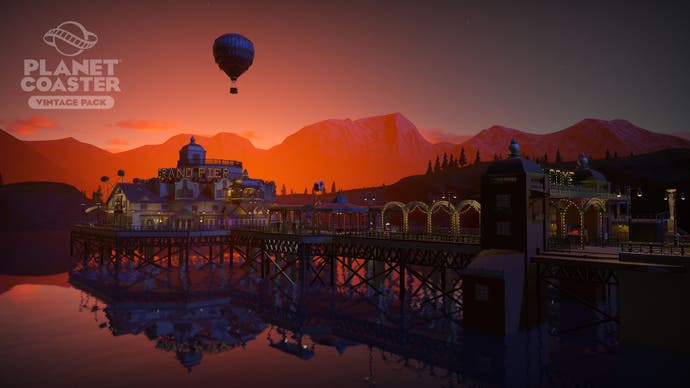 Elsewhere, there's vintage scenery to add an authentic touch of theming to your classic parks - including Victorian pillars, lightbox lettering, and animal statues - plus new entertainments in the form of a barbershop quartet and trapeze artists. Additionally, the Vintage Pack sees the introduction of vending machines, ranging from gumball and popcorn dispensers to a classic fortune-telling Zoltan machine. All that will cost £7.99 / $10.99 USD come July 10th.
Developer Frontier also notes that Planet Coaster will receive several new free features alongside the Vintage Pack update, including the new Mouse Hunt coaster and a range of non-vintage vending machines - offering food and drink, as well as a new Crane Machine game. There're also new bedding plants, new screenshot filters, and new grouping tools for scenery.