Planet Coaster gets some international flair in its upcoming World's Fair expansion
Out next week.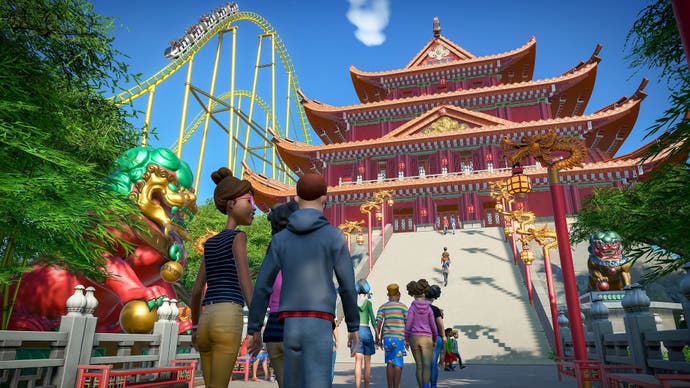 Frontier has unveiled Planet Coaster's new World's Fair Pack, an internationally flavoured DLC expansion coming to PC next week, on October 16th.
The World's Fair Pack takes Frontier's theme park sim on a globe-hopping tour of ten different countries. The result is a brand-new collection of over 360 building and scenery items - including shops, restaurants, and billboards - inspired by the UK, France, Italy, Spain, Germany, Japan, Mexico, Morocco, China, and the USA. Ideal if you fancy attempting to build your own version of Disney's Epcot or, you know, the world.
There's the briefest glimpse of the new themes in the teaser trailer below.
Beyond Planet Coaster's new international additions, the World's Fair Pack introduces a handful of other offerings. There's Polarity, described as an "unmanned rapid transport system using magnetic forces to propel the coaster train", and two separate motorcycle coasters. These, known as the Jixxer and the Interceptor, feature new seat types that lean riders into corners.
Planet Coaster's World's Fair Pack is priced at £7.99 and will be accompanied by a free update when it launches on October 16th. This will be available to all players and includes new restaurants and vending machines, plus gameplay and quality of life improvements.