PES 2017's unlicensed club team names are as brilliant as ever
East Dorsetshire vs South Norwood? Why not?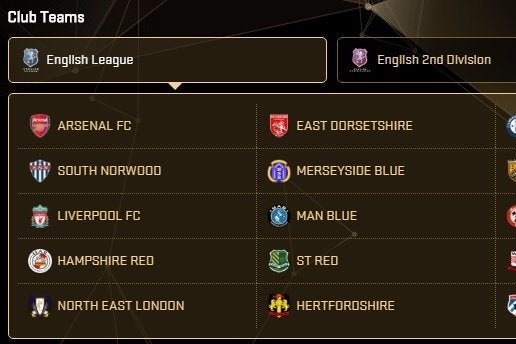 If you, like me, played PES back in the day, you'll remember with fondness the silly names for clubs Konami came up with because it didn't have official licenses.
And as you'd expect, for the latest version of the game the silly names continue.
Konami has confirmed its official licenses for PES 2017, and listed all the team names on the official PES 2017 website.
Let's jump straight into Premier League teams - oh, sorry, "English League" teams, shall we?

As you can see from the image above, Arsenal and Liverpool are the only officially licensed Premier League clubs in this year's game, which means Manchester United, officially licensed in last year's PES, are now relegated to Man Red.
Chelsea, by far the greatest team the world has ever seen, is, appropriately for the best London club, simply called London FC.
I went to school in South Norwood, and I love that as an alternate dimension name for Crystal Palace.
I also love the fact Konami came up with East Dorsetshire for Bournemouth. Why not use the actual name, East Dorset?
There's fun in trying to work out which teams are which in PES' version of The Championship, or English 2nd Division - without cheating. Go on, play this mini-game with me. It's Friday, after all.

Now, it's worth pointing out that PES 2017, like previous games in the football series, has an editor that lets you change all the team names. And, the are community-made option files available that make the game pretty much authentic, so you don't have to go to the trouble of manually changing everything.
But I reckon some of PES' charm is lost by making all the team names accurate. There's something brilliantly PES about pitting South Norwood against Lancashire Claret.