Diego Maradona threatens to sue Konami over PES 2017 likeness
UPDATE: Konami says player likeness is being used "appropriately, with the basis of the license."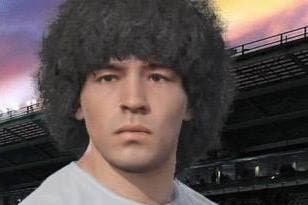 UPDATE 03/04/2017 5.28pm: Konami has issued the following somewhat confusing statement regarding the Diego Maradona lawsuit to Kotaku:
"At this time, there have been news that in Winning Eleven 2017 (international title: PES 2017 Pro Evolution Soccer) there is one player that is being used without permission; however, our company is using [this player] appropriately, with the basis of the license within the contract."
So Konami doesn't have permission, but it does have the license, whatever that means.
ORIGINAL STORY 01/04/2017 7.18am: Retired Argentine footballer Diego Maradona has threatened legal action against Konami over the use of his likeness in PES 2017. Maradona alleges that he never gave permission to the video game publisher to use his likeness in the game.
"I heard yesterday that the Japanese company Konami uses my image for its game PES 2017. Unfortunately, my lawyer Matias Morla will initiate the corresponding legal actions. I hope this is not another scam," the pro ball player wrote on Facebook (via Google Translate).
Maradona's attorney Matias Morla tweeted what Google translated into: "PES 2017 illegally used the figure and name #Maradona we will action against #Konami with everything!"
This isn't the first time a major video game publisher has been taken to court for its portrayal of a professional athlete. Just last year NBA 2K16 publisher Take-Two Interactive was sued for $1.14m over its portrayal of player tattoos. It turns out this is such a common legal problem that San Francisco 49ers quarterback Colin Kaepernick made sure to ascertain the digital rights to his tattoos when he got inked. Yet Maradona's legal threats aren't related to tattoos, but rather his very presence in PES in the first place.
We've reached out to Konami for its take on this legal threat and will update as we hear back.