Pro Evolution Soccer 2017 is a slower, more considered spin on Konami's series
Yes, Konami is still making video games (and yes it's fixing the roster updates).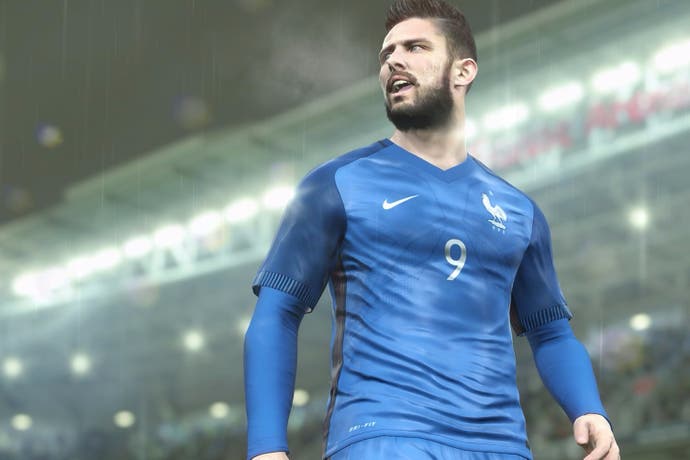 The first surprise, perhaps, is that Konami is still actively making big budget console titles. Pro Evolution Soccer 2017 isn't a new Pachinko machine - it's a proper, bona fide video game. It's a very good one, too, as you might have expected if you've been paying attention to PES's return to grace in recent years, topped off in in 2016 with arguably the most exquisite PES yet, even if it it was let down slightly by its stunted roster updates that saw it lag behind its competition even as it trumped it in most other areas.
The second surprise is how slow this new Pro Evolution Soccer feels. The last few PES games have, in my hands at least, offered a faster, more frenetic brand of football, alongside the exceptional level of fluidity that's also been offered. Pro Evolution Soccer 2017, on the other hand, feels much, much more considered. The free flowing football that's marked out recent games, and the sense of brilliant unpredictability and near infinite possibility engendered by PES's current philosophy, are all still very much present. It's just that what once ran like so much fizzy pop, bubbling and bursting all over the pitch, has now thickened to a sweet molasses.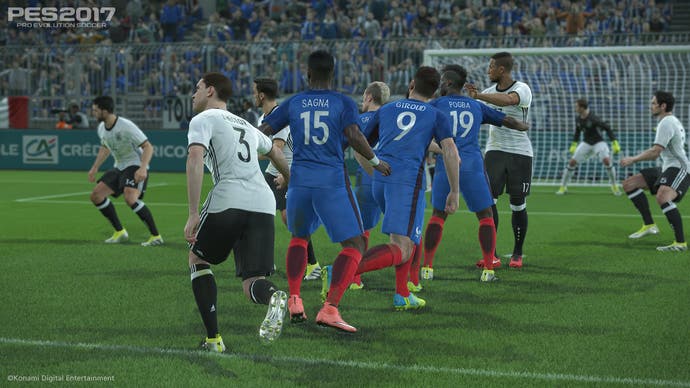 After just over an hour's play I'm still not entirely sure it's to my taste, but you can never jump to conclusions after a quick sampler of games like these. Playing to feet feels like it's encouraged more thanks to a new emphasis on first-touch, while goals are harder to come by through design (PES brand manager Adam Bhatti says there'll be no more 6-6 draws like we saw in last year's game - I'm too embarrassed to admit I've gone whole afternoons with the game happy with the brace of goals I'd bundled in off wayward shins), with vastly improved keepers quicker to pounce on follow-up shots.
Elsewhere, there's an emphasis on reading the game, the push for player individuality now extending to playmakers like Iniesta while deeper tactical options of an older generation of PES returns - with the left trigger held down, the right shoulder and bumper buttons allow you to conduct the pace of your play, switching between four styles of attack and defence.
If you're literate in football - I'm a Chelsea fan, for heaven's sake, so I'll happily admit I'm not - there's a deeper, more considered take on the sport, tied in with new preset tactical options. But, if you're more a historian of PES - and having been invested since its pre-history with the SNES' International Superstar Soccer, I'm much better versed in that regard - then it's a welcome return of an older feature that's been excised for a little too long.
As a fan of PES more than a fan of football, it's the little details in 2017 that really get me excited. Stand between the sticks defending a penalty and you can playfully point to each corner of the goal - a feature that was present last year, but one that's much, much more pronounced thanks to some new animations - while corners are now brilliantly pliable thanks to new options on the d-pad, allowing you to mark certain players or time a run at the far post.
What else is new? There's talk of an AI system that learns as you play - so rely too much on a certain player and they'll be slowly marked out of the game. It's a cute idea, but I'm sure I've heard similar touted many times before so I'll wait until I've properly seen it in order to believe it. Other improvements are slightly more tangible from the off.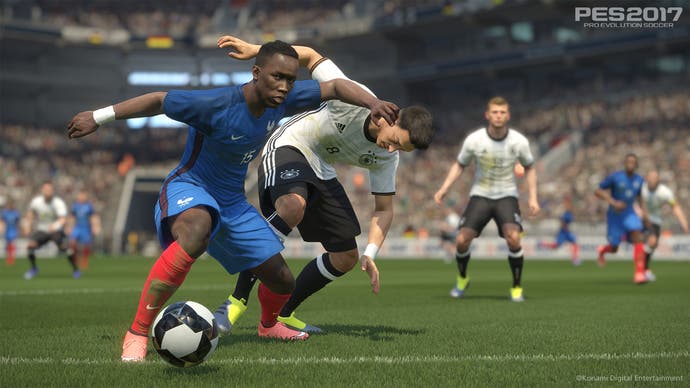 As you'd expect some three years into PES's current generation tenure, and three years into its dalliance with the Fox Engine, it looks the part, even if the big visual improvements aren't fully implemented in the slim build available for the press demo. Likenesses have been improved, more players have been uniquely modelled and it's as handsome as ever - there might be a gulf between PES and FIFA in terms of budget, and in sales, but it's PES that's always looked the more stylish of the two, to my eyes at least. PES 2017 is doing nothing to shift that perception; it's a handsome game with a certain character its rival lacks.
This isn't, however, going to be the PES that finally grabs all the licences and finds the level of polish that will give it the broader appeal FIFA currently enjoys. That's not to say it isn't making steps in the right direction - Atlético Madrid are joined by Arsenal in the demo, and they're both fully licensed, suggesting some new additions are being made (although the editor proved so comprehensive in PES 2016 it was easy to sidestep the licensing issues, if you had a spare afternoon that is). Other announcements on features and licences are to be announced at a later date, but for now there's at least one very welcome bit of news given the strife surrounding last year's game.
PES 2017 will have a day one roster update, and beyond that there'll now be weekly updates for both online and offline play - so hopefully it's an end to wrestling with outdated squads, and given the questions around Konami's commitment to big budget gaming it's reassuring to hear it's going all in with the latest PES. It's never going to be a straight fight with its opposition - you'll likely get better odds on Middlesborough winning the Premier League next year than PES toppling FIFA in the charts, though stranger things have happened - but for those wise to the series' charms it's looking like consolidation for what's already a great game. Does it mean Konami is properly back after a fairly miserable year? Let's wait and see.