PC and Xbox One Call of Duty: Black Ops 4 players call League Play "first on PS4" timed exclusivity a "slap in the face"
Fall Out.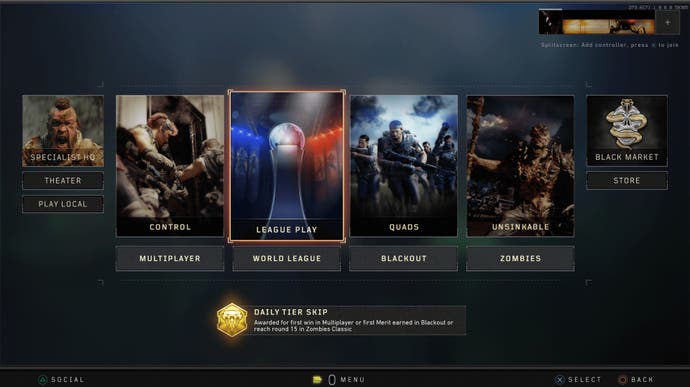 Call of Duty: Black Ops 4 finally gets League Play four months after the game came out - and it's "first on PlayStation 4".
The World League Hub, which includes League Play, was initially planned to release in December. Now the hub is due out mid-February. Developer Treyarch said it's "investing additional time and development into making Black Ops 4 competitive play as robust as possible".
League Play is a competitive feature that was popular with Black Ops 2 players. It includes a focused ranked mode fuelled by skill-based matchmaking, and a playlist that features the same rules the pros adhere to in the Call of Duty World League.
In a blog post, Treyarch said it's taking a few extra weeks to implement and test new changes to the structure of League Play (at launch it'll include events that span across the full week), so the World League Hub and League Play is now set for Black Ops 4's next major game update, which itself is planned for mid-February.
This is "first on PS4", Treyarch added, as per Activision's exclusivity deal with Sony. This point has certainly kicked up a stink with Call of Duty players on PC and Xbox One - and you can see why. League Play is something players had expected to arrive much sooner in Black Ops 4's life cycle than mid-February, so for it to have timed exclusivity around one platform doesn't feel fair if you're not on PS4 - even if the delay is just a week.
"Wait I didn't even think about that for Xbox players," wrote Bartzy16 in a post on the Black Ops 4 subreddit. "I know we all might have our differences but this is just unfair to those who have Xbox/PC."
"How are they going to drop League Play like it's exclusive content when it's something that they promised at or around launch," added ST3LTR0. "What a joke."
"I've been waiting for months to get on my competitive grind, and it's again delayed," said chromesomee. "Slap in the face as I'm an Xbox player too."
"Releasing a game mode that was promised to us MONTHS ago on PS4 first like it's some surprise bonus content?" wrote Inquity-Vl. "That's such a scummy move."
Some of Activision's decisions around the way it's sold Call of Duty: Black Ops 4 have proved controversial. For starters, the decision to sell a Black Ops Pass that includes premium DLC maps has split the userbase at a time when most shooters make all maps available for free. And there's upset among those who own the Black Ops Pass, too. So far, it hasn't added much to the game, and some customers have said they aren't getting value from it.
For Black Ops 4, Activision and Sony went for timed exclusivity around smaller-scale aspects of the game. For example, additions to Blackout, such as the arrival of Hijacked, and multiplayer operations have all launched first on PS4. Add to this general disgruntlement about Black Ops 4 microtransactions, such as selling a smiley face reticle for £1.79, and you can see why the news League Play is "first on PS4" and delayed to mid-Feb has gone down like a lead balloon.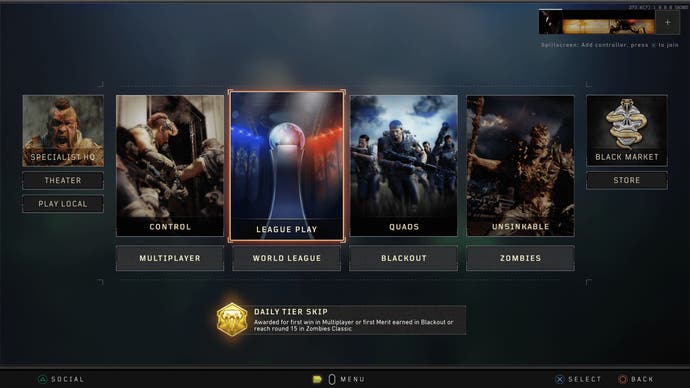 When League Play does go live, the World League will be added to Black Ops 4's main menu, sitting between Multiplayer and Blackout.
"League Play will be an even better experience for ranked play and pro players with the new competitive ruleset, the addition of CWL Custom Games, and ranked play progression for every day of the week," Treyarch said.
The new competitive ruleset includes restrictions specialists, maps, modes, weapons, equipment, attachments, perks, scorestreaks, wildcards and gear. Firebreak's Reactor Core, for example, is off limits.