Now Fallout gets officially licensed Nuka-Cola Quantum
May or may not make your wee glow.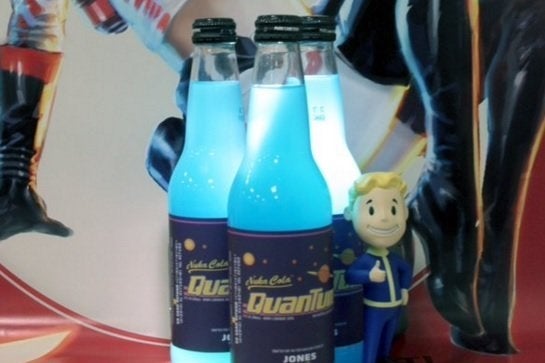 It's Friday! What does that mean? It means we bring you word that there's real life Fallout Nuka-Cola Quantum.
Well, it's not real real. It won't make your wee glow. Nor will it give you real life AP. But! You can drink it. And, it's blue!
The official Fallout Twitter account announced Nuka-Cola Quantum, which is made by North America soft drink company Jones Soda.
Nuka-Cola Quantum is exclusively available from Target, the gargantuan North American retailer. No word on whether it'll invade our shores, yet.
News of Nuka-Cola Quantum follows the announcement of officially licensed Fallout Beer, the result of a collaboration between Bethesda and Carlsberg UK.
What next? Maybe Bethesda will convince the Royal Mint to make Bottle Caps legal tender during Fallout 4's launch week.