Bits And Bobs: Monday News Roundup
Ace Combat 5 footage, Datel's USB flash drive for consoles, Perimeter single-player demo, and Sega trademarks a couple of new titles.
Namco has released a new trailer for Ace Combat 5, the next instalment in the really rather good console flight sim series. Unfortunately, the publisher has only released it in the really rather bad streaming WMV format, but if your connection (and eyeballs) can handle such hideousness, get yourself along to the Ace Combat website where you'll find the new movie in the Download section. This is the first gameplay footage we've seen from the new game, and it looks great - with tons of licensed planes flying around, gorgeous graphics and the usual wide range of different missions that you expect from Ace Combat. It's pencilled in for autumn in the USA; expect it to appear over here sometime before Christmas, with any luck.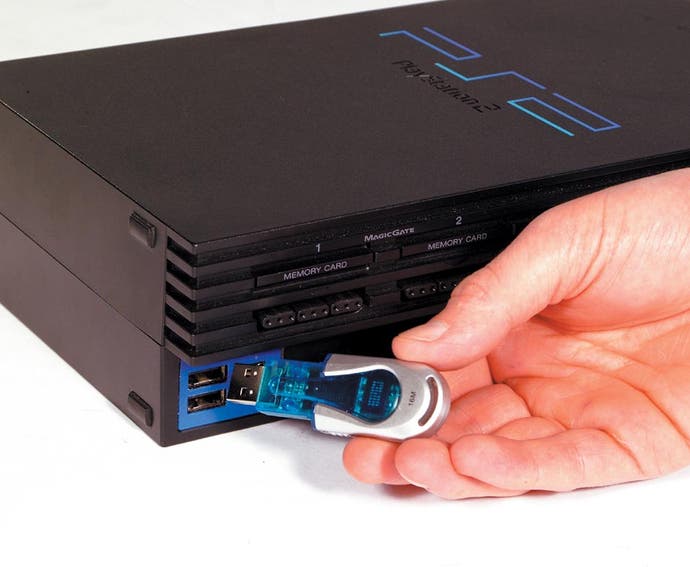 Datel has announced its MAX Drive, a PC-compatible USB flash drive trinket for PlayStation 2 and Xbox. The MAX Drive fits directly into the PS2's USB drive (or into the top of an Xbox controller via an adapter) and stores 16MB of game data, which is twice as much as most standard memory cards. It can also be used to transfer save files from console to PC and back again, effectively giving you a more or less infinite amount of space, and allowing you to pass them around on the Internet, which ought to be dead useful for, um, journos and cheating types (if the two are indeed mutually exclusive). The MAX Drive [pictured left] will be available from retailers and www.codejunkies.com from this Friday priced £19.99.
A single-player demo of Codemasters and K-D LAB's RTS Perimeter is available this week, offering a tutorial, the "Isoland" campaign mission (is this some form of CD burning game?), and two battle maps called "Fish" and "Tini". You'll probably be interested to hear that the developer recommends a 1GHz processor, 512MB RAM and a pretty recent graphics card, and that DirectX 9.0b is a requirement. The demo weighs in at 179MB.
Sega has registered two new titles in the USA this month, leading to renewed calls for the US Patent office to be destroyed before it takes all the fun out of depressingly long-winded and pointless PR campaigns. The two new titles were "Ghost Squad" and "Nosferan", both of which were registered by Sega seemingly with the intention of turning them in to game properties. "Sega cannot confirm that it is developing the titles reportedly filed by the company with the US patent office," a rather boring spokesperson for Sega of America said last week, but we'd imagine they're both PlayStation 5 titles due for release next decade when Sony buys out Nintendo and renames it "Sony Studios Kyoto". What?