More Mario Kart DS details
And news of a red hot bundle.
With just six weeks to go until the game launches in Europe, Nintendo has revealed some more info about the multiplayer modes we can expect to find in Mario Kart DS.
There will of course be a DS Download option so you can play against up to seven opponents, even if only one person has a copy of the game. There are three multiplayer modes - Racing, which offers you a choice of eight tracks, Balloon Battle and Shine Thief, both of which have three arenas.
If you've got a game card you can choose your own character and use personalised icons, but if you're downloading from another player, you'll have to play as Shy Guy. All DS Download races and battles are limited to the 100cc engine class.
So if you want the full range of character, track and engine class choices, you'll all need a copy of the game. The other advantage of multi-card play is that each player's win/loss ratio is saved and tracked, so you can see who's the overall champion. Plus you can trade ghost data, and players you race will be automatically added to your Friend roster so you can play against them via the new Wi-Fi Connection service.
Speaking of which, up to four players will be able to race simultaneously via Wi-Fi. You can race against your Friends only, Rivals (players of your skill level, as identified by the Nintendo servers), Recent Opponents, Regional Racers (players in your country only), or World Racers (players anywhere in the whole wide world).
All tracks will be available, and each player will vote for their course of choice - it's majority rule. If there's a tie, however, a track will be chosen at random. You can play as whichever character you like when online, and use your personalised player icons too.
So how do you get connected? Well, your first option is to go to an official Nintendo hotspot - still no word on where we can expect to find these, unfortunately. Or you can use your own wireless router, if you've got one. If not, you might like to invest in the Nintendo Wi-Fi USB Connector which links up to your PC's broadband connection.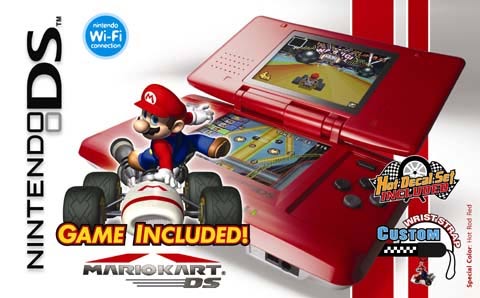 Nintendo has got an extra treat in store for those who are planning to buy a DS when Mario Kart arrives - well, providing you live in the US or are prepared to import, anyway. From November 28 stores will be stocking a special Mario Kart bundle, containing a copy of the game, a Hot Rod Red DS, a chequered flag wrist strap and some decal stickers to decorate your handheld with. It'll retail for $149.99 - around $15 less than the price of the DS and game if bought separately.
No such bundle has been announced for Europe so far and Nintendo was unavailable for comment, but we live in hope. Mario Kart DS will hit our shops on November 25, the same day as the Wi-Fi Connection service launches.