IL-2 team busy at work on Pacific Fighters World War II title
Chocks away, etc.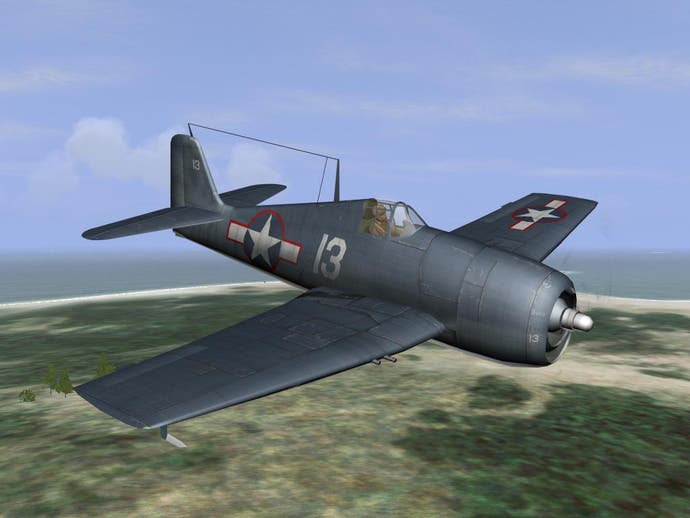 Flight sim fans will be pleased to hear that Oleg Maddox's IL-2 team is busy working on a new and even more expansive dogfight and bomb-'em-up in the shape of Pacific Fighters, announced by publisher Ubisoft early yesterday evening. It's due out before the end of 2004.
The game perhaps unsurprisingly focuses on World War II's Pacific air war, and aims to bring famous aerial tussles to life in the skies above Midway, Guadalcanal, Iwo Jime and Pearl Harbour. Historically accurate renditions of more than 40 planes will be on offer, from the Japanese Zero to the UK's Supermarine Seafire.
Ubisoft's Alain Corre reckons Pacific Fighters "will deliver even more of the high-quality graphics, historical detail and realism that IL-2 fans have come to expect," and also points to "extensive multiplayer options" including online dogfights and co-operative campaigns.
Players will also be able to take off and land on aircraft carriers during combat; a first for the Oleg Maddox 1C series, and take part in torpedo attacks, dive-bombing and high altitude bombing of targets ranging from amphibious landing craft and ground vehicles to coastal fortifications and other sea defences.
"Players will appreciate the variety of famous fighters, however, in this title more than any previous Maddox sim, we're emphasizing flyable bombers such as the SBD Dauntless, Aichi Val, Mitsubishi G4M Betty, and at least four versions of the North American B-25 Mitchell," says producer Ilya Shevchenko.
More info should be available on the game's official website in the near future, and we already have a few screenshots to get you in the mood for war.