Ms. Marvel is a playable character in Marvel's Avengers
Big up yourself.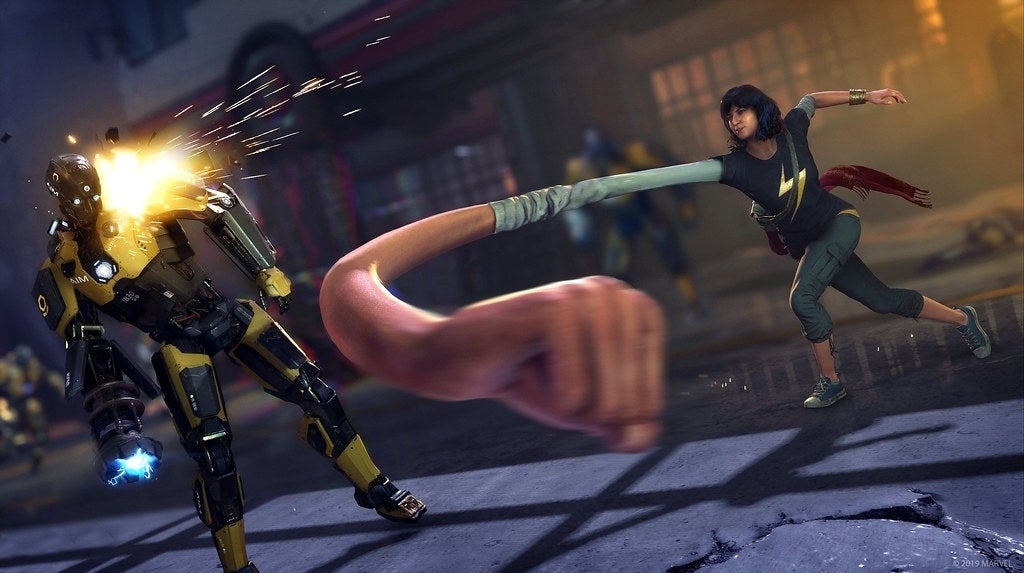 Ms. Marvel is a playable character in Marvel's Avengers.
As part of a New York Comic-Con announcement, Square Enix and Marvel unveiled Kamala Khan as a playable character in the game.
Khan, aka Ms. Marvel, is a teenager from Jersey City who has polymorph powers, which means she can get really big and really small and contort her body in unusual ways.
In the game's story, Khan gains her powers on A-Day, the Avengers celebration that goes very wrong at the start of the game.
Khan is about because her fan fiction comic is selected for the Avengers celebration. But then she's exposed to a gas and is labelled an Inhuman. She's got superpowers she doesn't know what to do with in a world that hates superheroes, and she suspects the Avengers were set up and acts to bring the team back together.
In combat, Ms. Marvel integrates some moves from the other Avengers into her own moveset, but with a twist. Her Embiggen power lets her lengthen her attacks, while she can avoid attacks while in the mini-Embiggen state. Elsewhere, her ultra-Embiggen state sees her grow to giant-size. It's at this point she can send enemies flying. Crystal Dynamics built an entirely different reaction set for the enemies for this.
We've already seen plenty of playable characters Captain America, Iron Man, Thor, Hulk and Black Widow, so it's nice to see one of the Marvel universe's lesser-known characters score a big role in the game. And, of course, unlike with that tired lot, Ms. Marvel has not appeared in the Marvel Cinematic Universe, so the developers at Crystal Dynamics do not face a comparison issue with her.
Marvel's Avengers comes out 15th May 2020.