Monster Hunter World's Iceborne expansion finally has a release date on PC
Out in January, first post-launch update in February.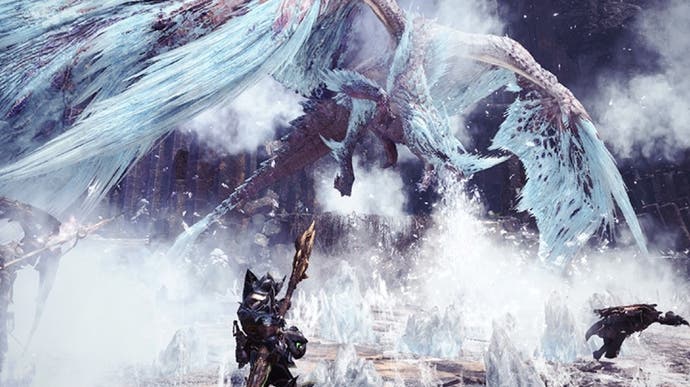 Monster Hunter World's frost-tipped Iceborne expansion finally has a PC release date. It'll be making its way to the platform on 9th January next year.
Iceborne, which arrived last month on Xbox One and PlayStation 4, introduces a sizeable new biome known as Hoarfrost Reach, bringing a fresh selection of monsters - both familiar faces from past instalments and new additions - to the game.
Old foes include the Nargacuga, Tigrex, and Brachydios, while the likes of the brute wyvern Banbaro and elder dragon Velkhana makes their series debut.
Elsewhere, Iceborne introduces a new story, a new base of operations in the form of Seliana, the significantly more challenging Master Rank - analogous to previous games' G Rank missions - improved hunting, numerous quality-of-life enhancements, and more.
Eurogamer's Martin Robinson took his own tentative steps into the world of Iceborne when it came to consoles last month, and was enthralled by its breadth and depth. "Iceborne, with its stubborn challenges, can feel like it's pitched more towards...expert players," he wrote, "but the joy of Monster Hunter - now, as ever - is how it embraces all playstyles".
"There's enough there to satisfy all corners of Monster Hunter World's 13 million strong audience," reckoned Martin, "So, don't be put off by Iceborne - in truth, there's never been a better time to get into Monster Hunter."
Iceborne's PC release will include a high resolution texture pack, customisable graphical settings, and DirectX 12 support, as well as revamped mouse-and-keyboard controls. Free post-launch support begins in early February on the platform - introducing the Rajang, Resident Evil collaboration, and Your Room updates - and March will bring a new monster. Capcom says updates will arrive simultaneously on PC and consoles in the future.
Monster Hunter World: Iceborne will be available in two digital editions when it comes to Steam on 9th January next year. There's the standard expansion-only version, which costs £34.99, and a considerably beefier Digital Deluxe bundle.
The latter is priced at £41.99 and features Iceborne, the Silver Knight Layered Armour Set, three new gestures, two sticker sets, the Rising Dragon face paint and Flowing hairstyle, plus the Traditional room decor set. The Yukumo Layered Armour Set is available as a pre-order bonus.