Monster Hunter World has launched a spooky new Hallowe'en event on consoles
Previous limited-time quests also return.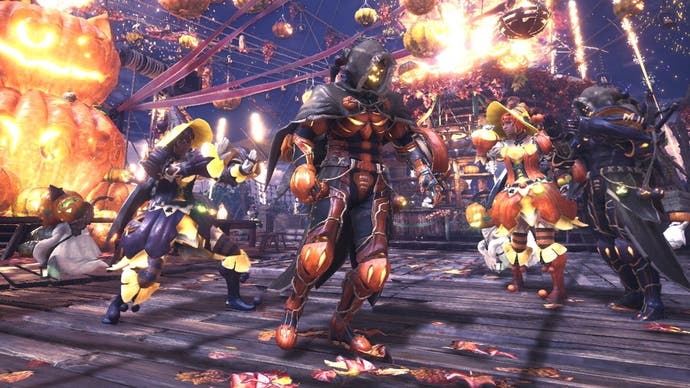 Capcom has unveiled a spooky Hallowe'en-themed limited-time event for Monster Hunter World on Xbox One and PS4, and it's available to play right now.
Monster Hunter World's ghoulish festivities are billed as the Autumn Harvest Fest and are immediately visible in the Gathering Hub, which has received an appropriately spooky makeover, with giant Palico pumpkins, seasonal bunting, fireworks and more. Hunters can also sample a new food platter and receive discounts on in-game items.
The real heart of the event, however, comes in the form of several new limited-time quests, some unlocking Halloween-themed costumes so you can properly get into the spirit of things.
Two quests - USJ: Gold Star Treatment and USJ: Blazing Azure Stars - are a collaboration with Universal Studios Japan, and reward the material needed to craft the Azure Star Blade long sword, Azure Star Palico armour set, and Azure Starlordα armour set.
Where Sun Meets Moon, meanwhile, grants access to a set of fluffy Dual Blades, inspired by Monster Hunter's chick-like Downy Crakes. Finally, there's A Royal Pain, which pits hunters against a Rathian and Pink Rathian simultaneously. This'll help you get your hands on the wonderfully daft Mosswine Mask and Faux Felyne layered armour pieces.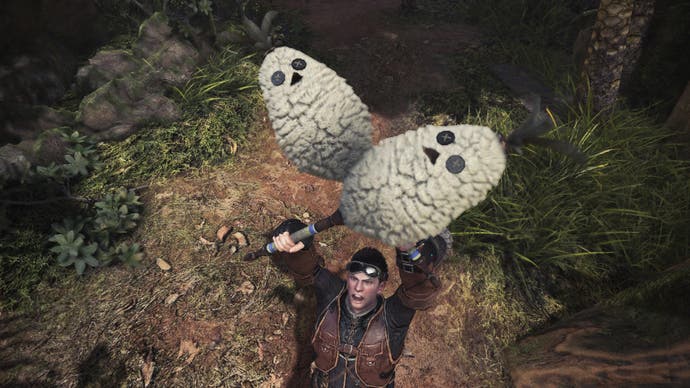 Capcom notes that the event will also bring back previous limited-time quests - including Wiggle Me This and Egg Lovers United, as well as the Kulve Taroth Siege. Additionally, it'll be possible to take on Arch-Tempered Elder Dragon and the Extreme Behemoth, as well as past Street Fighter, Mega Man, Devil May Cry, and Horizon Zero Dawn collaborations. The full list of returning event quests is pretty extensive and can be found on the Monster Hunter website.
You've got around two weeks to have your fill of the limited-time event quests. Monster Hunter World's Autumn Harvest Fest concludes on October 4th.