Microsoft reportedly binning ugly "optimised for Xbox Series X" sticker
Now more a peeling.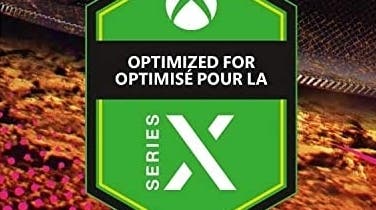 Microsoft has heard your feedback on its hulking green "Optimised For Xbox Series X" stickers, which it has been slapping willy-nilly all over Xbox Series X game boxes.
The bulky logo has been quietly removed from the box art of Codemasters' Dirt 5, with other games now expected to follow suit.
Microsoft's chonky icon was meant to indicate the game will look better on Xbox Series X, despite it instantly making game boxes look worse.
The monstrosity's messaging will reportedly now be placed on the rear cover, in a less eye-gouging manner.
Here's a comparison of the Dirt 5 cover with the offending sticker - and without - mocked up by games analyst Daniel Ahmad: