Mesmerising CryEngine 3 Tech demo revealed
Frog of war.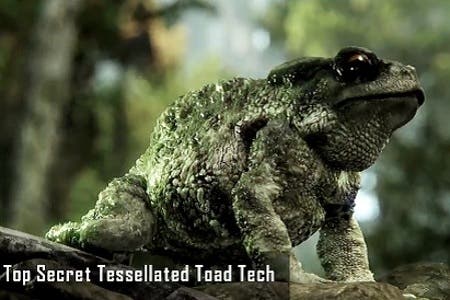 Crytech has released a new Crysis 3 trailer detailing all the nifty effects of its upcoming CryEngine 3.
It's certainly is a showstopper with a bunch of lovely details like "tessellated vegetation," "dynamic water volume caustics," "unlimited particle effects lighting," and my favourite, "top secret tessellated toad tech." Seriously, that toad looks amazing.
On that note, did anyone else think this lush, detailed jungle setting would make for a killer Metal Gear Solid 3 remake? Obviously that won't happen as Kojima Productions is working on its own Fox Engine, but after seeing this, it looks like Kojima and company have sure got their work cut out for them.
Crysis 3 meanwhile isn't some distant dream, but is slated for release in February 2013 on PC, Xbox 360 and PS3.
See the eerily lifelike jungle rendered in CryEngine 3 below.