Marvel's Avengers bug which displays IP addresses to be hotfixed today
Shield your details.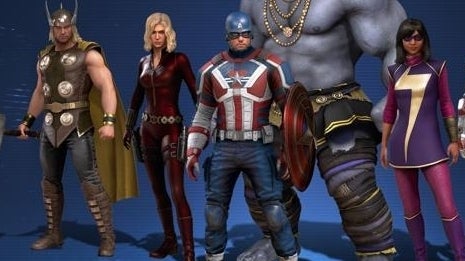 A bug which displays your IP address on-screen in Marvel's Avengers will be quickly fixed today, developer Crystal Dynamics has said.
The issue is currently affecting Marvel's Avengers on PlayStation 5, and has left streamers saying they cannot play until it is sorted out.
Avengers owners first noticed the problem after the game's latest update yesterday. Streamers reacted in alarm, saying the information could expose their physical location.
Here's evidence of the bug, from Forbes' Paul Tassi:
Crystal Dynamics was quick to respond, however, acknowledging the issue and warning people to "refrain from streaming for now".
Please refrain from streaming for now if you're experiencing this issue. We will update when this issue has been resolved.

— Marvel's Avengers (@PlayAvengers) June 22, 2021
A later message on Twitter announced a hotfix which will be deployed later today, at 6pm UK time.
We are currently testing a solution to the issue of personal information, including the player's IP address and username, being displayed on screen on PS5 and plan to deploy a hotfix tomorrow at around 8AM PT.

— Marvel's Avengers (@PlayAvengers) June 22, 2021
Marvel's Avengers is currently hosting its Cosmic Cube event, which adds a new Villain Sector and altered missions. The game's next big expansion, Black Panther - War for Wakanda, arrives free in August.