Lollipop Chainsaw release date announced
Can I get a J… a U…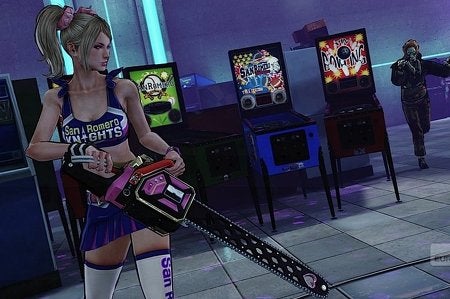 Over the top action game Lollipop Chainsaw launches on the 15th June in Europe and in the US on 12th June, publisher Warner Bros. Interactive has announced.
Lollipop Chainsaw is the next project to come out of Shadows of the Damned developer Grasshopper Manufacture.
It puts you in the shoes of 18-year-old cheerleader Juliet Starling, who turns up at school one day to find the place over-run by the undead. Duly, she ups chainsaw and sets about cleaning up the place.
Creative director Suda51 has promised the PlayStation 3 and Xbox 360 action game will go light on the gore. "Instead of sprays of blood, we have the zombies emitting bursts of pink light," he explained.
"When it comes to gore, we can certainly go that way if we want, but we wanted to give the game more of a 'pop' feel."
As with Shadows of the Damned, veteran game composer Akira Yamaoka is in charge of the soundtrack.
Warner has tapped Hollywood director/writer James Gunn (Super, Slither, Dawn of the Dead, Tromeo and Juliet) to help with Lollipop Chainsaw's story.