Nintendo's E3 2012 Conference
23 Wii U games shown. Pikmin 3, New Super Mario Bros. U and Nintendo Land - "the Wii Sports of Wii U" - are the main ones.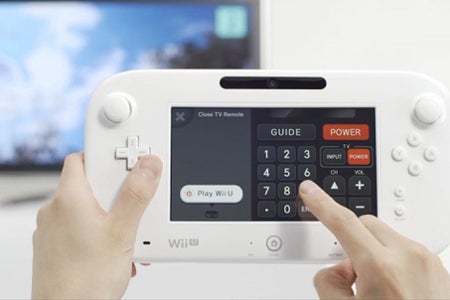 Our live coverage of this event has finished.
Coverage
True fact: it's always sunny on Nintendo day.
We're installed in Nintendo's venue, the Nokia theatre. (Well, Bertie's not yet - additional security checks, obv.) It's markedly classier and more comfortable in here - no giant sweltering sports halls for the house of Mario.
Spotted Mr Street Fighter, Yoshinori Ono, on the way in. He looked cute in his matching orange hair and trainers. And, wellwishers will be pleased to know, in good health.
ukuleleimport: Do you believe in the Megaton?
I BELIEVE
Machetazo: Get thee to the eurogameological podcast, before Nintendo starts.
We had great fun recording this last night - John Teti, Matt Martin and I will keep you entertained while you wait.
Hello and good morning and good afternoon! The Eurogamer team is inside the Nokia Theatre. We're sitting in an area we're not allowed to, but they don't appear to have noticed yet.
We spotted Capcom's Yoshinori Ono on his way in, and Capcom's David Reeves - Euro president - is sitting two rows back from us. Everyone seems to be here for what we hope is the most exciting of the three platform holder conferences so far.
Dan Amrich, also known as One of Swords - he from Activision that often blogs about Call of Duty - has just swanned in.
There's an air of expectation surrounding this conference. And I hear there are rumours of Mass Effect 3 on Wii U. I say.
This is the most comfortable of the three conferences so far, for what it's worth. It's a sensible stage layout - I doubt Usher or Flo Rida are waiting in the wings.
But could Ian Wright, ex-Arsenal footballer and Wii London launch celebrity, be here?!
We saw UK boxer Amir Khan on our flight over. A Wii U boxing game announcement? It's a longshot.
He's three rows in front of us. He's got a new beard! Well, one we haven't seen.
caesar_: MY BODY IS REGGIE
We can't wait to see the big man! He's so dynamic, so energetic!
We're among the business bods, the VIPs. We're so naughty. I've got an orange wristband! I'm not one of you!
There's a cluster of photographers at the stage, photographing a Wii U GamePad. They can't know that Jonathan Ross is here - he's got his own chat show!
Pandy: We will know Nintendo is serious about appealing to core gamers when we hear dubstep.
Yes, dubstep alert is on standby.
Bring on the griiiiiiime.
What wacky new IP will Nintendo have created for Wii U? Will Miyamoto conduct an orchestra? Will he do press-ups? What has he been up to? More importantly, has that Zelda Wii U tech demo become a real game?
Er... http://twitpic.com/9t3n51
The auditorium is filling up nicely now. We can't be far away from the off.
Who will open the show? Iwata? Mario?
Nintendo sounds to have the same pre-show mixtape as Microsoft! No dubstep yet. Perhaps it's a generic E3 thing.
The Wii U GamePad on stage is black, by the way. I've not seen a black version of it before.
Black is the colour of core gaming, as demonstrated by the Pro Controller. Dubstep can't be far behind.
Eurogamer's Tom Phillips, working from the UK, is hyperventilating with all the excitement, I'm told. He wears Nintendo underpants - he's that big of a fan.
WillyWongler: @mstrsystm i'd run through the streets naked for a week if that gets announced!
We've all witnessed you say that now.
The teleprompters are in plain sight again.
There aren't as many flashing lights and things going on as there was at Microsoft and Sony's conferences. It's less blingy, in other words.
Is Reggie thundering around backstage, pumping Iwata up? "Shigsy, focus! Let's do it!"
We start with a video. We're looking at Miyamoto's dressing room. He's got Pikmin people on his desk!
They're in his suit, in his pants maybe, and he's walking out. Is he coming on stage? All the Pikmin creatures are following him. HE'S HERE!
He says maybe all the Pikmin are all around us. We're seeing an augmented reality camera show us Pikmin on our shoulders. Oh Nintendo, you jovial bunch.
Bill Trinen, director of product marketing, is whistled for to translate for Miyamoto.
Miyamoto is introducing Wii U, and discussing the goals of the machine, to make it non-dependent on one screen - the TV. Nintendo wanted to make the Wii U GamePad screen the first one they went to in the front room.
The black Wii U GamePad he's holding looks a bit like an oversized Vita.
A close-up of the Wii U hub unit. Has it changed?
It's a real-time action management game. You command your Pikmin followers, as you know. The graphics on the foliage are realistic, but the Pikmin are painted in bright, contrasting cartoon colours. The result is visually very impressive.
The gameplay we're seeing is very smooth. You can throw Pikmin in enemy eyes with the Wiimote. On the GamePad, you'll see the Pikmin game map. You can touch the map and scroll the environment, offering you more commands as, err, commander.
Using just the GamePad, Pikmin is a top-down affair and you touch to order your followers around.
You can see at a glance, on the GamePad, all four Pikmin leaders' status. He's talking about the demo that will be on the E3 show floor. The whole presentation is vibrant and fluid. It's the epitome of Nintendo so far.
Miyamoto pulls out a Pikmin toy from his pocket in a scripted gag. It's a bit forced, but then there's infectious big old smile. Somehow, it works.
And heeeeeeeere's Reggie!
"I feel just like a purple Pikmin." He's into his familiar monotonous patter.
Lots of "WOO! REGGGIEEE" around me in the audience.
We're going to see 23 Wii U titles on stage today, he says. "And even then, that's only a small part of the range of Wii U and Nintendo 3DS titles playable in LA this week."
He's talking about having a deep understanding of Wii U. Wii U changes our gaming, how we interact with our gaming friends, and changes the way we enjoy our TV.
Netflix and Hulu Plus will be there. YouTube as well. Amazon Video, too. He's a walking, talking press release.
Reggie is referencing the pre-E3 Nintendo broadcast, and how Nintendo will only focus on games at E3. All the other stuff will come after.
You're killing it, Reggie. And not in a good way.
There's the black Wii U GamePad and hub unit. Is it nicer than the white model?
The Wii U hardware will support two separate GamePads, just like the NES did.
Dual GamePad games won't be here at E3, it sounds like. But look out for them in the future.
A video on screen is introducing us to the GamePad. We're seeing the analogue sticks, triggers, bumpers, infrared beamer. The GamePad has rumble and motion sensors.
There's a built-in camera and microphone. There are stereo speakers and volume control. And finally the Home button that can suspend games for updates or connect with friends.
Still no detail on the Wii U hub unit.
He's talking about Miiverse now and talking about how you can share screen images from the games you're playing, share game activity and stuff like that. All stuff familiar to those of you who saw the Sunday video.
My connection dropped temporarily there, but Reggie is still waffling about Miiverse. He's saying what we already know.
Reggie's reiterating that all this will be web-enabled, too, post-launch, so that you can access this stuff via your mobile devices and PCs.
Mahhhhhrio. Mahhhhhrio. Reggie's moving on to Nintendo's iconic frontman.
New Super Mario Bros. U. You'll be able to see what other people are saying through Miiverse and connect in the game.
Raccoon suit Toad. That's messed up.
We see message bubbles of people above stages on the Mario stage map. "It's a new real-time social window that opens up while you play," he says.
We're seeing a New Super Mario Bros. U trailer now. It's very bright and colourful. It looks lovely. Mario is swimming, balancing on platforms. Luigi's helping co-operatively. And now Toad is, too. The painterly backgrounds are wonderful.
The Mario footage is lovely. Underwater bits! A more interesting map! Beautiful backgrounds! Boos! Giant stars! Multi-hit goombas! A sort of balloon thing!
Boost Mode. The Wii U GamePad player can place blocks to boost the speed of other people racing.
Batman: Arkham City is coming to Wii U.
Harley Quinn voice over addressing Reggie directly. Here comes Warner Bros. president Martin Tremblay.
This is a unique edition of Arkham City. It's called the Armored Edition.
Oh dear, Harley Quinn's custom intro for Martin Tremblay from Warner Bros. was pretty cringe-worthy.
Sefton Hill from developer Rocksteady is on the screen, telling us what's new.
You can target-scan things using the Wii U GamePad. You can scroll through a menu. The Catwoman content is on Wii U.
WB Games Montreal vice president Reid Schneider is here to walk us through the game's big features. That's the studio making the Wii U version.
BAT mode. The BAT meter fills up and maxes out. Once maxed, you can use the GamePad to activate the BAT mode, making Bats even more powerful.
We need to activate a switch, there's a newly designed remote controlled Batarang, that you can control with the GamePad.
You can strategically place explosives on the wall using the GamePad, and detonate them one at a time - or all at once - using the Wii U controller.
Batman's entire arsenal is available at the touch of a finger. The game looked very similar - identical? - to the PS3, 360 versions.
Scribblenauts now. Jeremiah Slaczka from 5th Cell, the CEO, is here to present.
He's got fierce red trainers on!
Scribblenauts Unlimited is the name of the Wii U game.
It's incredibly bright and crisp, thanks to being in HD on Wii U. You can draw things to life on the Wii U GamePad, and handle text input on the touch screen. There's a new multiplayer mode.
We're done with Warner Bros. On to the next partner.
(There was a Nintendo 3DS logo at the bottom at the end as well, incidentally.)
Being able to create stuff in Scribblenauts and share it with the Miiverse sounds fun. The players in the video were putting mohawks on dogs and stuff.
A trailer's showing us more games. There's Darksiders 2 from THQ. There's Mass Effect 3 confirmation!
There's Tank! Tank! Tank! from Namco. There's Tekken Tag Tournament 2. There's Trine 2: Director's Cut.
There's Ninja Gaiden 3: Razor's Edge. There's Aliens: Colonial Marines from Gearbox. And that's that.
Now we're on to music and fitness genres. "Wii U will make both of these even better."
I've counted 11 games so far. Then again, I can't count terribly well.
Reggie's talking about when Nintendo unveiled the Balance Board at E3, when Wii Fit was introduced. He's as wooden as a tree.
"What was just one small step for me, was one giant step for expanding the universe of video games." Does he write this?
More than 43 million copies of Wii Fit and Wii Fit Plus have been sold around the world, he tells us.
We're getting a first look. She's selecting a workout on the GamePad. She's on the balance board. She can use the GamePad screen for another angle on the floor. The man's on the Balance Board now. He's holding the Gamepad, aiming a water cannon. Err, that didn't look hard.
Ah, she's using a tamogotchi thing to upload her run from this morning to the Wii U GamePad. Pity you can't strap the whole controller to your arm while you run, really.
Golf clapping. New events, new exercise routines, and that new Fit Meter (the 'tamagotchi' thing), and off-TV play. They make it new all over again, Reggie insists.
Now we're on to the music genre. "Almost everyone wants to be a rockstar." But there are two types, watching and performing.
Introducing Sing by FreeStyleGames, the DJ Hero developer.
This is terrible karaoke etiquette. You do NOT sing along. AND DON'T LOOK AT ME.
People are dancing and singing all together - one person holds a microphone and can see the words and directions to instruct people how to dance on her GamePad. They're all very glamorous. That's not what it looks like when I do karaoke.
SiNG to give it its bizarre styling, is a working title.
Nintendo America executive vice president Scott Moffitt is coming on to talk about 3DS.
Switching tack to 3DS now, but there should still be 10 more Wii U games to be announced, judging by my calculations.
He's been taking lessons from stiff-as-a-plank Fils-Aime.
Tomorrow at 6pm PT - 2am UK time, will be a webcast detailing 3DS games.
Three Nintendo first-party titles now. First, New Super Mario Bros. 2.
Can everyone stop doing conferences at 2am UK time please? :-(
New Super Mario Bros. 2 will be available in the US on 19th August, he announces.
Paper Mario now, the RPG take on Mario. Paper Mario: Sticker Star on 3DS.
There's a new element to the game and it's stickers would you ever believe. The stickers that you collect, by pulling them off the scenery, become your battle commands. We're seeing some of these on the screen. It looks very nice, but we'd rather hear about Wii U please.
Paper Mario: Sticker Star arrives both physically and digitally this holiday season. That's Christmas time.
What Nintendo 3DS doesn't have enough of yet, and what it's about to get "a healthy dose of", is Luigi. It's Luigi's Mansion: Dark Moon.
It's launching this holiday season. Moffitt's quick look at 3DS titles is nearly over. He'll be giving "several" third-party titles the airing they deserve tomorrow online.
We're going to see a showreel of the third-party line-up. Castlevania: Lords of Shadow. Disney Epic Mickey: Power of Illusion. Scribblenauts Unlimited. Kingdom Hearts 3D: Dream Drop Distance. And that's it, and here's Reggie.
He's talking about Lego City, the Wii U game. The GamePad will be a "multi-purpose crime fighting tool", you know. We're seeing a trailer.
A man is flying a helicopter with his GamePad. There seems to be a lot of screen tearing in this video. Crimes are sent to your GamePad by a talking head that pops out of a map scene.
Lego City: Undercover, it's called. Lots of clapping. The man behind us thinks it looked "great". A portable version of Lego City: Undercover, for 3DS, is in the works, with bespoke content.
The Lego City video gets a warm reception. Lots of that looked fun - clambering around, scanning for criminals, looking for hidden stuff, some neat cut-scenes.
Another third-party publisher to talk about on Wii U. It's Ubisoft, and we saw a lot of their games yesterday. Yves Guillemot, CEO of Ubisoft, is coming on stage. He's a very slight man.
He's bigging up the Wii U, and very obviously reading his teleprompter lines.
The console is "accessible, it's social, it's very innovative. So it's a revolution." He says thanks on behalf of Ubisoft for the Wii U. Good grief. Now we're going to see Ubisoft's Wii U games. Again.
Xavier Poix from Ubisoft will run us through the games. Just Dance 4 first.
Reggie will be the puppet master. He's going to command the dancer that four dancers have come on stage to dance to, with their Wiimotes.
It doesn't look like the dancers have rehearsed this one!
He jokes that being Puppet Master is like being the head of Nintendo of America. Lots of laughter.
Now ZombiU, the game that Ubisoft showed a cinematic trailer for yesterday, that focused on the UK and a zombie outbreak. It was very gory. Now we're seeing gameplay.
He's using the GamePad as a scope to target. He's ordering it to shoot, he's shaking it to shake off a zombie. The hand we're seeing in the video is CGI!
Reggie's taking a picture of himself, and it's being Zombie-fied, just like that app from the App Store. Reggie's getting into it. "I like French food," he moans. "I'm hungry now!"
Assassin's Creed 3. Rabbins Land. Your Shape: Fitness Evolved 2013. Rayman Legends... Meanwhile, a set is being carried on stage.
There are three archways, two pink, one green.
Here come another two archways. What is all this for?
That's 22. There's one more game to announce.
All of the Wii U units are wired in this conference, by the way. "Welcome to Nintendo Land," Reggie announces.
What if all the Nintendo brands came together? He muses. He's talking about how Wii Tennis demonstrated what a Wii could do. And on Wii U, Nintendo Land will do the same thing.
Nintendo Land is a single game that brings together 12 different attractions, five of which are at E3 for us to try.
The Legend of Zelda: Battle Quest, Animal Crossing: Sweet Days and Luigi's Ghost Mansion are among them. They're multiplayer. Single-player ones are Donkey Kong's Crash Course and Takamaru's Ninja Castle.
They look like they're derived from the tech demos we saw last year.
Nintendo Land's meant to be a theme park where people can experience different games that highlight the best features of Wii U.
It's a "place where visitors from all around the world can gather", thanks to Miiverse.
It's on-screen now and it looks a bit like a giant flashy Mario Party board with Miis wandering around on it. We're going to learn more about it at a developer roundtable later tonight.
The man on-stage is Katsuya Eguchi, by the way. He's discussing how the asymmetric gameplay will be, well, great. He's using Luigi's Ghost Mansion as an example.
Multiplayer Luigi's Ghost Mansion is going to make you feel like you're walking down a corridor being haunted by a ghost.
One player wanders around a maze while others pursue him. The players have very different perspectives - the GamePad ghosts can see all the players all the time, but the big-screen player cannot.
It's very reminiscent of Pac-Man Vs. Chris Donlan suggests there's shades of Johann Sebastian Joust, too.
The Wii U GamePads rumble when other ghosts get near, so players have to talk to each other in order to locate nearby ghosts and then shine their flashlights to isolate the ghosts. Leave the lights on too long and they run out of battery.
Not sure I explained that brilliantly, but hopefully you get the asymmetric gameplay point...
Players can revive other players who have been incapacitated by ghosts. It's all about teamwork, basically.
DrStrangelove: There's not going to be another E3 love letter from EG next year.
Haha.
Shining lights run downs the battery power of the torches. Of course! And so the ghost strikes. The GamePad rumbles when one players is caught. The other players come and help. What do you think? A smattering of applause.
"So what do you think?" Eguchi asks. The audience applauds politely. It's not gone down amazingly well, although it does look like a lot of fun.
We're going to see a Nintendo Land trailer. It's very bright - who would have thought?
The arches on stage are the same as the arch-portals in the game's hub screen that a train chugs around. It's a cartoon feast of colours.
Nintendo Land will launch at the same time as the Wii U hardware this holiday, announces Reggie Fils-Aime.
Those 23 games again in full: 1. Pikmin 3 2. New Super Mario Bros. U 3. Batman: Arkham City Armored Edition 4. Scribblenauts Unlimited 5. Darksiders 2 6. Mass Effect 3 7. Tank! Tank! Tank! 8. Tekken Tag Tournament 2 9. Trine 2: Director's Cut 10. Ninja Gaiden 3: Razor's Edge 11. Aliens: Colonial Marines 12. Wii Fit U 13. Sing 14. Lego City: Undercover 15. Just Dance 4 16. ZombiU 17. Assassin's Creed 3 18. Rabbids Land 19. YourShape: Fitness Evolved 2013 20. Rayman Legends 21. Sports Connection 22. The Avengers: Battle for Earth 23. Nintendo Land
As soon as the Nintendo E3 conference finishes, you online will be able to "dive deeper" into what you've seen at e3.nintendo.com and on Facebook and YouTube. Nintendo's really hitting the online presentations this year.
"If you imagine the Wii U as a Wii universe, then that touch screen transports you to places you've never been before," says Reggie.
"The promise of Wii U is simple: together, better." And with that, Reggie Fils-Aime, and the Nintendo E3 conference, is done. One last trailer of Nintendo Land.
A Mii character is witnessing a firework display. Trumpets! And a Nintendo logo. Brief. Weird.
We're finished here, Eurogamer readers - it's time to go to the E3 show proper! Thanks for joining us. Bye!
Thanks everyone! Those of us in LA are off to do the show now. Those of us in the UK will be piledriving as many assets and stuff onto the site as possible. Oh, and look out for more previews (Tomb Raider etc) in a few hours.
Will you support Eurogamer?
We want to make Eurogamer better, and that means better for our readers - not for algorithms. You can help! Become a supporter of Eurogamer and you can view the site completely ad-free, as well as gaining exclusive access to articles, podcasts and conversations that will bring you closer to the team, the stories, and the games we all love. Subscriptions start at £3.99 / $4.99 per month.